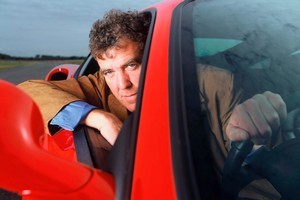 Jeremy Clarkson has topped a poll of the celebrities Britons would least like to share a driving adventure with, according to research by Continental Tyres.
The Top Gear presenter was rated as the worst person to share a 4x4 drive across the Sahara Desert. Glamour model Katie Price (aka Jordan) came in second, and British Prime Minister David Cameron was a close third.
The poll of 2000 motorists identified a good sense of humour as the top trait for a co-driver, ahead of motoring knowledge and survival skills. The research was conducted as part of the launch of this year's Conti 4x4 Trophy, where people compete for a place driving a GM Hummer across the Sahara.
Tim Bailey, spokesperson for Continental Tyres, said: "Jeremy Clarkson might have motoring credentials, but either his calamitous road trips on Top Gear, his lack of practical skills or his outspoken views mean most people would leave him behind."
Others on the reject list: British Deputy PM Nick Clegg, Madonna and Simon Cowell.