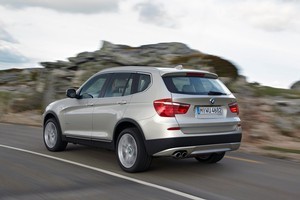 BMW has confirmed it will produce the X4 compact luxury SUV alongside the X5, X6 and X3 at the brand's Spartanburg plant in the United States.
Details of the compact X4 are scarce, but it is expected to share its underpinnings with the X3 and arrive next year with X6-like coupe styling.
It will enable BMW to directly compete with the likes of Range Rover's Evoque, the upcoming Porsche Cajun, and the 2014 Mercedes-Benz GLK.
BMW Group Australia head of corporate communications Piers Scott told website GoAuto that the carmaker is excited about bringing the X4 Downunder.
"It is something we think would have very strong relevance and application on the basis of the recent successes of our X range of vehicles," he said.
"X models account for as much as 30 or 40 per cent of total sales in some months. The general trend across the market tends to be that compact SUV sales are really surging."
The X4 will join an ever-increasing number of niche-filling products from the Munich marque, which include the X6 and 5-Series GT. A 6-Series Gran Coupe is due later this year, plus numerous variants based on the new 1-Series and 3-Series are in the pipeline.
Scott could not confirm rumours that a high-performance X4M was planned, although he says it is conceivable that a "range-topping version that the M division has had a hand in" could emerge under BMW's M Performance Automobiles banner.
M Performance Automobiles, the first of which will be an X6 expected to feature a triple-turbo diesel engine, will be hotted-up versions of BMW's existing vehicles, but will stop short of being full-blown M cars.
BMW made the X4 announcement as it celebrated the two-millionth vehicle to be produced at Spartanburg since the first car, an E36 318i sedan, rolled off the line in September 1994.
The Bavarian brand also announced a US$900 million ($1.1 billion) investment in the facility by 2014, which will expand annual capacity to 350,000 units and make way for the new X4.
This follows a 73 per cent production increase to a record 276,065 vehicles last year, largely due to demand for the second-generation X3, which went to Spartanburg in 2010 after BMW decided to stop producing the model in Europe.