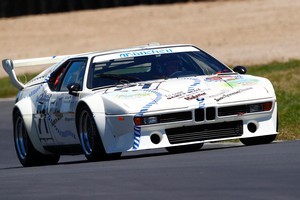 BMW is celebrating its rich history of saloon car racing in New Zealand with a display of three of its most treasured racers.
The cars are drawn from the maker's AG Classic museum in Munich, and comprise the BMW 3.0CSL, an original E30 M3 that won the German touring car championship, and the M1ProCar that raced at Le Mans.
The 3.0CSL, nicknamed the "Batmobile", won the 1973 German Touring Car Grand Prix at the Nurburgring with New Zealander Chris Amon at the wheel.
It will be on display during this weekend's Festival of Motor Racing at Hampton Downs, but it won't be seen in action on the track, unlike the M3 and M1ProCar. The 3.0CSL is the only example in the AG Classic museum and the risk of damaging it, even during a low-speed demonstration, is too great.
Race driver and BMW training specialist Mike Eady has been behind the wheel of the raucous M1ProCar at Hampton Downs, while AG Classic staffer Andreas Riehl has been punting the M3.
The five-speed gearbox in the M1ProCar has ratios set up for Le Mans-type circuits, and is too tall for the tight Hampton Downs layout.
Eadie said he took some corners in first gear and didn't get out of fourth: "The car's good for 320km/h, but not on this circuit."
German Riehl and his colleague Max Flueckiger are AG Classic specialists and travel the world with museum cars, preparing them for displays such as the NZ festival.
"Not just the cars we have brought to New Zealand but many others as well," said Riehl.
So how much are the three BMW museum pieces worth? "More than €1 million [$1.6 million]," he said.
Riehl and Flueckiger will pack up the three cars and head back to Munich after this weekend. A display in the United States is next on the schedule.