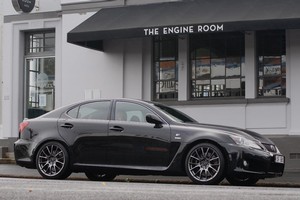 Lexus IS F Red Edition is a new super-sedan that does 0-100km/h in 4.8 seconds, with only 10 available. Sounds pretty special.
Well, it's not really. If exclusivity is the sole reason for purchasing such a vehicle, then admittedly this should be perfect. There really are only 10 (nine black, one dark grey) and each carries an official plaque. Our test car happened to read "001". Impressed?
For the rest of us, the IS F Red Edition is really nothing more than a standard IS F with hideous red leather seats and some slightly nicer and wider 19-inch wheels. No, your Lexus dealer cannot sell you the same rims for any other IS. At the same time, the Red Edition costs the same $151,900 as any other IS F.
The interesting stuff that comes with this 2012-specification model applies to all other IS Fs as well - especially the new Sachs low-friction front shock absorbers and retuned rear suspension.
Know what? That's okay. Any excuse to drive the IS F is welcome, because it's a fantastic machine.
Truth be told, I love this genre of super-sedan, with cars such as the BMW M3 and Mercedes-Benz C 63 AMG. Magic. Those cars are magnificently engineered and supremely capable in a let's-get-down-to-business way.
I love how Lexus has come along and added comedy stylings to the segment like Fast and Furious wheel arches, oversized vents and the hilariously optimistic 320km/h speedometer. Not that you can really read it, because it's been pushed into the corner of the instrument display by the oversized tachometer. Which is fun, but not really necessary, because the IS F's 5.0-litre V8 drives through an eight-speed automatic gearbox.
Unlike its BMW or Mercedes-Benz rivals, you can't fiddle around with the IS F's power delivery, gearbox calibration or suspension settings.
I kind of like that. I also like the anti-social exhaust - note the 311kW/505Nm powerplant makes beyond 4000rpm. It's a place you need to visit often, for the V8 lacks the requisite urge at very low speed.
The IS F feels a bit mad, which makes up for the fact that it lacks the ultimate steering and chassis precision of the German competition. It's still highly entertaining, but the electrically assisted steering and somewhat inert chassis do take the edge off the driving experience when you try to explore the car's capabilities. These are still considerable though.
Plainly stated, the IS F was a triumph for Lexus when it was launched in 2007 - and it still is.