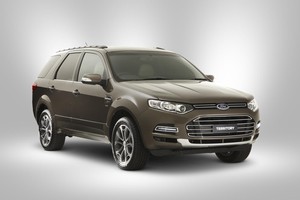 Ford's all-new Mondeo platform will form the basis of at least 10 different new models, which could include the next Falcon and Territory.
Ford says an expansion of its next-generation C/D platform will further reduce cost and complexity and therefore increase the quality and value of its upcoming mid-size models.
Ford president and chief executive Alan Mulally said the new C/D platform would eventually serve customers with one million vehicles a year, with at least 10 different models coming by the end of 2014.
The first model to appear on the Blue Oval's new C/D platform is the US Fusion sedan, followed by sedan, hatch and wagon versions of the Mondeo, which is expected at the Geneva show in March, for Australia and New Zealand, says GoAuto.
Ford revealed recently that it would reduce the number of vehicle platforms it produced worldwide to nine by next year. Of the nine platforms, five are global - B-car platform for Fiesta, C for Focus, C/D for Mondeo, Light Truck for the Ranger ute, and Commercial for the Transit van.
The remaining four will be "regional" platforms, including perhaps the Falcon, one of Ford's oldest nameplates.
Mulally said 2012 would be a milestone year.
"To start, it will be our most productive year for global car introductions in our entire history," he said. "In recent years, consumers have responded enthusiastically to our Fiesta in the B segment, our Focus in the C segment and our Ranger pick-up. Now we turn our attention towards the world's most competitive segment - the C/D mid-size segment."
Of the 13 million vehicles sold in the US last year, two-thirds were mid-size sedans or compact SUVs.