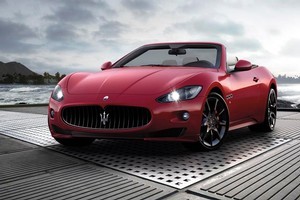 The Maserati GranCabrio Sport has arrived in New Zealand just in time for summer, offering more performance, sharper, more aggressive responses and - and, although it may be hard to imagine given the normal GranCabrio's svelte and chic styling - even better looks.
"The Maserati GranCabrio Sport represents Maserati's technology at its finest," says Glen Sealey, general manager of Maserati in Australia and New Zealand.
"It is faster, yet uses less fuel; it is significantly more responsive, yet boasts lower emissions; it is sharper and more responsive, yet is as comfortable and refined to drive as would be expected of a Maserati - not to mention, it is even better-looking.
"In short, the GranCabrio Sport may have arrived just in time for summer, its natural habitat, but its breadth of abilities, the sharpness of its skills and its elegant yet aggressive styling means that the pleasure of driving a Maserati GranCabrio Sport is a true year-round experience."
With more power, a faster gearshift and a distinctively muscular look, the GranCabrio Sport has given Maserati a harder-edged convertible to sit alongside the GranTurismo S and the Quattroporte Sport GT S as the performance flagships of their respective ranges.
Unveiled at the 2011 Geneva Motor Show, the GranCabrio Sport combines an upgraded 4.7-litre V8 engine with eight extra kilowatts, lifting engine output to 331kW.
Torque is boosted by 20Nm to 510Nm and fuel economy is improved by friction-reducing technology, while the faster MC Auto Shift transmission means full use of this new performance is more accessible.
With a 285km/h top speed and a 0-100km/h sprint of just 5.2 seconds, the GranCabrio Sport is brimming with performance and luxury refinements both inside the cabin and underneath its sleek body panels.
As well as added power, torque and responsiveness, the Friction Reduction Program that has provided the power and torque boost has also lowered the GranCabrio Sport's fuel consumption by 6 per cent to a combined total of 14.5 litres/100km.
Its six-speed transmission includes a super-fast mode and has been developed for the GranCabrio Sport directly from the transmission in the Quattroporte Sport GT S.
The handling has been enhanced for greater speed, too, with an upgrade of the Skyhook active-suspension system and the adoption of a more responsive brake package.
Driven tested the GranCabrio Sport in Italy last year around the roads of Trieste and we were impressed with the luxury car. The deep aural symphony Sport unleashes is unbelievable with the accelerator mashed to the carpet, and it barks, spits and rumbles on the overrun. It is fiendishly good.
Visually, the GranCabrio Sport is characterised by a more pronounced, dynamic look. This look begins with the GranCabrio's distinctive nose and continues with a host of small, perfectly integrated changes throughout the body and the interior.
The Maserati GranCabrio Sport will cost $320,000 - excluding dealer costs and delivery.