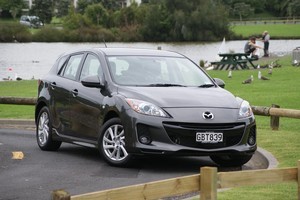 Mazda might be one of the most idiosyncratically Japanese brands there is, but this is a very European way of doing things: a car that looks like a painfully mild update on the outside, but with next-generation technology underneath. Mercedes-Benz would approve.
In many respects, the Mazda3 is a small car caught between two worlds. Styling-wise, especially. You might remember all the fuss about the brand's "Nagare" styling philosophy, the signature of one-time chief designer Laurens van den Acker - a look that was supposed to resemble liquid flowing across the body of the car. The Mazda3 was Nagare's most explicit expression in Mazda's mainstream lineup.
But Van Den Acker has gone to Renault and Nagare is on the way out, to be replaced in forthcoming models by something called Kodo - more sporty, less swoopy.
Late-2011's Mazda3 facelift was an attempt to bridge the gap between the two and I can't say it's worked all that well. As it was, the Mazda3 was idiosyncratic but honest; now, with the most obvious curves and creases smoothed away, it seems to be neither one thing nor the other.
A bit bland - something you'd never have accused the old car of. That's a shame when the new Kodo generation - led by the CX-5 crossover this year - looks cohesive and striking.
Never mind. Because beneath the muddled exterior of this Mazda3 GSE is the maker's next-generation SkyActiv engine and transmission technology. The GSE is a brilliant drive and arguably the best car in the Mazda3 range, even if you forget about the eco-appeal and just focus on driving pleasure.
In the pursuit of ultimate efficiency, Mazda has redesigned just about every major powertrain component in this 2.0-litre, six-speed automatic package: this is a high-compression, low-friction affair that makes 113kW/194Nm and returns 6.2 litres per 100km in the mandated Australian Design Rules (ADR) cycle (standard GSX 108kW/182Nm, 8.4 l/100km).
The GSE is no lighter overall than the standard GSX, but there's a latent energy in the SkyActiv engine and transmission that leaves the regular car for dead in terms of driver appeal.
It's genuinely thrifty, too: an average of 6.7 litres/100km for an open-road excursion and 7.8 litres/100km overall for the week is deeply impressive for a car that demands to be driven with such verve.
No, it's not a hyper-miling eco-car - but Mazda reckons by making these smaller gains in efficiency to the broadest possible market, it's doing more good than it would with the likes of a niche hybrid or electric car. I agree.
When SkyActiv hits its stride with the CX-5 and next-generation Mazda6, there will be much more to the package - such as a lightweight chassis and advanced exhaust technology. But for now, the Mazda GSE is an impressive introduction. The $2100 spent over the otherwise-identical GSX ($35,295) is money well-spent.