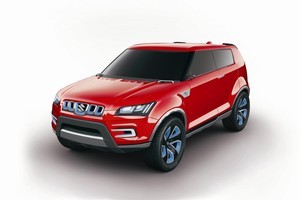 The Suzuki Swift, New Zealand's top-selling hatchback for seven years, is spawning spin-off concept and production variants.
Both the Ertiga compAct MPV and XA Alpha concept SUV models are developments of the Swift.
They were among several new Suzuki developments attracting attention at the New Delhi Auto Expo.
The models are being showcased by Suzuki Motor Corporation's Indian automobile subsidiary, Maruti Suzuki.
Based on an extended Swift platform, the five-door Ertiga is scheduled to go into production later this year in India.
The Ertiga is 175mm taller than the Swift, with a 175mm increase in wheelbase plus an overall length to 4265mm, creating a seven-seater with a two-three-two seating arrangement.
Suzuki will offer the Ertiga in India with the choice of the same 1.4-litre K14B twin overhead camshaft engine used in the current Swift and a 1.3-litre DDiS turbo diesel.
The "R" in the car's name represents "Row", while "TIGA" implies the digit "3" in the Indonesian language, meaning a three-row car.
Suzuki believes Ertiga redefines space utilisation in the compact class, and though it will be built initially for the Indian market, it may be eventually exported to New Zealand.
The XA Alpha, with its "fighter jet" canopy-like window line, will be assessed before Suzuki makes a decision on its production future.
Sharing some styling pointers from the Range Rover Evoque - which is the same height - the XA is 4000mm long and fits between the smaller Suzuki Jimny and larger Grand Vitara. The 2500mm wheelbase is slightly more than a production Swift, and 250mm greater than a Jimny.
The five-door body features a high "five block" grille and hawk-eyed headlights, flared guards with extenders and under-body protection, pillarless side windows, heavy-duty bumpers, and short front and rear overhangs.
Four-wheel-drive off-road capability is claimed to be excellent, and the XA, which took nine months from paper sketch to concept reality, may also be offered in two-wheel-drive, front-wheel-drive form.
XA can be powered by a range of Suzuki K-Series petrol engines or a 1.3-litre diesel alternative.
Though it is just a design study at this stage, it could go into production as an all-new model for Maruti, selling to India's burgeoning middle class.
Suzuki said the company would try to get the XA to look as close as possible to the concept model.
As for the name, the "X" denotes the crossover category and the "A" represents the first step for customers wishing to enter the SUV segment.