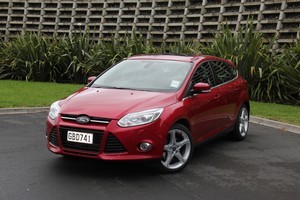 The Ford Focus is New Zealand's Car of the Year, as judged by the country's top motoring journalists.
Members of NZ's Motoring Writers' Guild assessed the latest range and judged them not just on performance and handling, but on value, safety, economy, and how well Focus fits the purpose for which it was designed. Judges remarked especially on the efficiency of the powertrain, the petrol and diesel engines mated to a twin-clutch auto transmission and delivering 6.4l/100km economy figures in petrol format.
Current Guild president David Linklater says: "In its latest guise the Focus pushes its segment forward in crucial areas such as powertrain efficiency, packaging, quality and equipment, all without compromising that fun factor."
But the clincher is that the car is capable over most of New Zealand's driving environments from city to highway to secondary roads.
Linklater says the strength of the national award is that it's achieved via a jury drawn from the length and breadth of the country, and the winner must excel for a wide range of drivers, in their local conditions.
The finalists the Focus beat were 12 models launched in the year prior to November 1, 2011, including cars as diverse as Volvo's S60, the Alfa Romeo Giulietta, Kia Optima and Suzuki Swift.