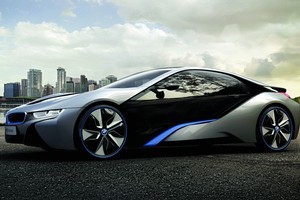 The BMW i8 is edging nearer to production. The petrol/electric supercar first appeared in concept form last year, but spy pictures of a camouflaged prototype give the best hint yet of what to expect when the car goes on sale next year.
The glass doors of the concept look to have been dropped, the sharp nose has been smoothed, and the headlights have been moved further forwards. Other touches, such as the wing mirrors and rear bumper, have also been tweaked.
Reports say the i8 will use a rear-mounted, 164kW, four-cylinder petrol engine driving the rear wheels, with a 96kW electric motor driving the front wheels.
The combined 260kW is expected to propel the i8 from 0 to 100km/h in 4.6 seconds. Expect fuel economy of around 3 litres/100km, with CO2 emissions of 70g/km.

A survey by audit powerhouse KPMG suggests automotive executives don't see electrified car sales passing 15 per cent of global sales until at least 2025.
Yet these same execs foresee substantial increased investment in electric and hybrid car production.
Excess tell future
The survey polled 200 executives and found 83 per cent expect an increase in electric motor production, 81 per cent think carmakers will increase investment in battery technology, 76 per cent see more power electronics investment, and 65 per cent predict increased investment in fuel cells.
The results didn't find any conclusive winner on which sort of alternative fuel might be the eventual winner, but 61 per cent of the executives agreed that "the optimisation (so-called downsizing) of internal-combustion engines still offers greater efficiency and CO2 reduction potential than any electric vehicle technology based on the current energy mix".
Need for speed ll
In 1999, Britain's Richard Brown smashed the one-way speed record for a motorbike by hitting 584km/h on the salt flats of Bonneville, Utah. But his claim on the world record - based on the average of two runs in opposite directions - was prevented by technical problems.
Now he is aiming to be the first to exceed 720km/h while achieving an average two-way speed of at least 640km/h - using a jet-propelled bike (pictured) called Jet Reaction. He has retooled a 930kW helicopter engine with an afterburner for extra oomph.
Truck tops in US again
The best-selling vehicle in the United States last year was the Ford F-Series pick-up truck. Ford dealers sold 584,917 F-Series units in 2011, against the second-placed Chevrolet Silverado's 415,130.
The Toyota Camry filled out the podium with 308,510 sales, which left the top three unaltered from their 2010 rankings.
Fourth was the Nissan Altima, followed by the Ford Escape, Honda Accord, Honda Crosstour, Ford Fusion, Toyota Corolla and Toyota Matrix.
Myth bus-ted
Travelling by car is more eco-friendly than travelling by bus - certainly outside London, reports Auto Express.
The UK Government recommends motorists take the bus "to reduce the negative impacts of driving". But the magazine found data buried in a government report that said each passenger on a bus outside London was responsible for 184.33g per km of CO2. That is much higher than the emissions figure for the average new car bought in Britain in 2010 - 144.2g/km CO2. It's also higher than some off-roaders, sports cars and people-movers.
Says British Automobile Association president Edmund King: "This just shows there's a lot of misinformation about 'green' travel out there."
Andretti in Trump's celebrity line-up
Indianapolis 500 and CART winner Michael Andretti will appear in the next Celebrity Apprentice reality TV series. The winner gets US$250,000 ($315,000) to donate to a charity.
This season's celebs include Arsenio Hall, Clay Aiken, Twisted Sister frontman Dee Snider, Car Show host Adam Carolla, American Chopper's Paul Teutul, model Cheryl Tiegs, reality TV star Victoria Gotti and beauty queen Dayana Mendoza.
Last season, the show raised a record US$3.1 million for charity.
Movie car to star in auction thriller
One of the most famous movie cars in the world goes up for auction in Britain today - and it is likely to fetch upwards of $200,000.
It is a 1973 Ford Mustang Mach 1 called Eleanor, the star of the 1974 film Gone in 60 Seconds. Twelve cars were built for the film, five of which were wrecked in stunts. Eleanor is one of only two in private hands.