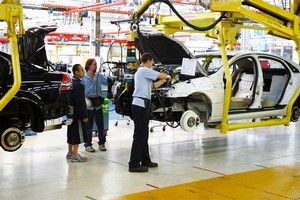 While Ford has announced a $133.7 million investment in the Falcon and Territory that will guarantee production in Victoria, Holden is fighting to keep manufacturing in Australia.
Revealed jointly by Ford executives and Australia's manufacturing minister, Kim Carr, at the Detroit motor show this week [see pages 13, 15], the co-investment ensures production stay Downunder until 2016.
The unexpected Falcon/Territory upgrade - revealed simultaneously to Ford workers in Geelong, Victoria this week - will provide employment for about 300 people during the design and engineering stages of the project, which will see the Falcon's CO2 emissions reduce by up to 5.3 per cent from 2014.
While in Detroit, Carr is also meeting with General Motors to try to shore up the long-term future of GM Holden manufacturing and thousands of jobs in Australia.
GM has said that one of its options was to close its Australian factories.
The American giant is seeking financial assistance in the form of co-investment grants and other commitments from Australian federal and state governments to support two model lines at Holden's Elizabeth factory in South Australia.
However, it seems unlikely that one of those models will include a Commodore-like large car after the life of the next model, the VF, that hits showrooms in 2014.
Carr described the current Commodore as an orphan in GM's model line-up.
"This is not the 1950s any more," he said. " Global platforms are a reality."
Holden managing director Mike Devereux, who also attended the meeting with Carr and GM bosses, went further by describing the Australian large-car segment as "niche", adding that Holden wanted to build cars in mass-selling segments.
The VF Commodore is safe, and will retain the rear-drive format when it arrives in about 2014. But it is increasingly likely that GM will bin that Australian format in favour of one of its global front-drive architectures when the VF's life is up, about 2018-20.
None of the parties would discuss the size of the co-investment assistance being sought by Holden, saying the details were yet to be finalised. Carr pointed to the $4.5 billion Australian car industry transformation fund, carbon tax compensation fund, and R&D grants as being the likely sources of support.
Meanwhile, Ford's newly announced investment will focus on Falcon and Territory upgrades, including new safety, technology and design features. Ford Australia president and CEO Bob Graziano said the company wanted to improve fuel efficiency, "thereby improving the competitiveness and appeal of both the Falcon and Territory".
He added: "The initiatives that Ford will undertake with this investment will improve CO2 [emissions] by a little over 5 per cent."
There is also still no word on the future of the company's next-generation Falcon, one of the longest-running nameplates in Ford history, according to Ford's CEO of Asia Pacific and Africa operations, Joe Hinrichs.
"We know the questions won't stop, but at the same time this [funding] gives us a time horizon that is secure and is finite, and also gives us time to figure out where the consumers go and where the products go beyond that timeframe," said Hinrichs in Detroit.