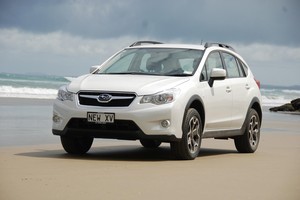 Talk about chalk and cheese. Subaru's last XV jacked up an ageing Impreza to create a pocket Outback, but sloppy execution and an already tired donor consigned the XV to oblivion.
This time around, Subaru has done it properly, using the next Impreza's platform and a fresh and funky design to create a car that seems built for New Zealand.
What's new
This platform will underpin the Impreza arriving in April. Expect extra ground clearance - up to 200mm this time - with plenty of attention paid to suspension and weight. The boot's 340 litres expands to 1230, with the second-row seats folded, just big enough to throw a bike in.
The engine is the first of Subaru's lean-burn units, a naturally aspirated 2.0-litre that fields 110kW at 6200rpm and 196Nm at 4200rpm.
The company line
Subaru NZ managing director Wallis Dumper planned to launch the XV in September with Impreza before it, but post-tsunami production schedules switched.
Factory closures kept him short on stock and sales were down by nearly 400 this year. "If you say it quickly it's not too bad," said Dumper, who expects the XV to be a big seller.
"It's pretty good on the green front at 7l/100km, and it's an all-wheel-drive Subaru with Lineartronic, the chain-type CVT that delivers a wider ratio spread than the traditional CVT steel belt." Will it handle a diesel? "Watch this space."
What we say
Rugged-looking with a modern edge. The active flavour Kiwis like. A reasonably roomy cabin with higher-quality materials than before, atop a compact car footprint. Specifications include seven airbags, all-wheel-drive, 17-inch alloy wheels, a reversing camera, cruise control and Bluetooth hands-free, all standard for the $38,990 manual base car.
Satnav, privacy glass, a sunroof, heated leather seats and roof rails for higher-spec cars topping out with the S version at $48,990. A continuously variable transmission and stop-start to help keep thirst pinned, plus a high-riding driver position without going tall enough to ruin handling. It sounds like the ideal Kiwi car - if it works as planned.
On the road
Our extensive Far North drive over demanding back-country B-roads and gravel suggests it does. The MacPherson strut front and independent rear suspension ably absorbs lumps and did a good job of controlling the car through bends. Most buyers will be happy with performance, while petrolheads mourning the lack of a turbo will be mollified by stability control tuning that allows minor wheel slippage in gravel before it gathers you in.
Why you'll buy one?Better looks than traditional for the brand. Practical size, flavour and frugality plus good ground clearance and reasonable on-road handling. All-wheel-drive, a five-star safety rating, and that special Subaru character.
Why you won't?
No turbo available.