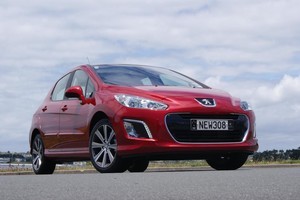 It's still not sleek, but the new 308 has sweeping lines and fresh features, while retaining plenty of space upfront.
The latest Peugeot to get the marque's new corporate look is the 308. This one's not quite as comprehensive as the 508 and RCZ lines - while they were both brand-new models designed around a fresh aesthetic template, what you see before you with the 308 is a careful nose job and the very familiar current-generation model behind it.
Nonetheless, it's a facelift that works. Out goes the gaping grille, in comes Peugeot's posh new Lion badge and sweeping bonnet lines. And as this season's must-have accessory is daytime running lights, all new 308 models have them in a fetching angled shape.
There are new Access (an odd name) and Active models lower down in the 308 lineup, while the flagship model tested here is now known as Allure - bringing the 308 into line with other models like the 508 and recently revised 4007.
Pricing starts at $29,990 for the petrol-powered Access (beware: it has a humble four-speed automatic) and tops out at $45,990 for our bells-and-whistles Allure 2.0 HDi turbo diesel.
You would never call a 308 sleek, but its cab-forward styling, massive glasshouse and panoramic roof make it airy to travel in. Peugeot has kept comfort in mind with the suspension and tyre choice - the Allure still rides on modestly sized 17-inch rims, which ensures a decent ride.
The HDi engine and six-speed automatic gearbox remain a great combination. It's not a sporty car, but the relaxed gait of the powertrain and superb visibility from inside the cabin make the 308 a superb city car or long-distance cruising machine - especially if you have the family in tow.
If all this sounds a bit slight, there have actually been some very big changes to 308 - it's just that we Kiwis miss out on many of them. Weight is down by 25kg across the range and we do get the benefit of that.
What we don't gain is e-HDi technology, which has been launched for 308 in Europe (and Australia, now that you mention it): the economy-focused e-HDi model gets a 1.6-litre diesel with a piloted oil pump, modified alternator, low-rolling-resistance tyres and stop-start. The whole package cuts fuel consumption by 15 per cent, making the Peugeot one of the cleanest cars in its class.
I'd like to say there are a whole range of reasons why we don't get it here, but I suspect the reality is to do with transmission choice. The 308 e-HDi is available with a manual, which nobody would buy, or an electronically controlled robotised gearbox, which nobody would be able to drive smoothly. The French haven't quite got the hang of robotised manuals in the way the Germans have (think Volkswagen's smooth dual-clutch DSG).
A pity the most substantial 308 advances have been left behind - especially as the 308 is one of the oldest cars in its segment. But with that smooth 2.0-litre HDi engine and six-speed automatic, a few luxury touches and fuel economy of 6.1 litres per 100km, the 308 Allure ticks enough boxes to keep the model on the catwalk for another season.
The bottom line:
It's little more than a nose job, but 308 has gone from being the weird-looking kid at the back of the class to a more elegant middle-ager. Diesel powertrain as effective and efficient as ever.
Alternatives
Ford Focus Trend diesel $41,490
Holden Cruze hatch CD diesel $36,900
Mazda3 GSE SkyActiv $37,395
Mitsubishi ASX Sport diesel $47,990
Volkswagen Golf TDI 2.0 $45,750