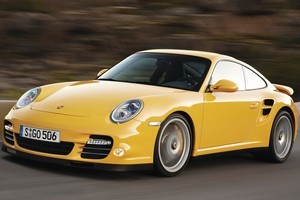 This is how Germany's rigid warrant of fitness standard works. The controlling body is called "Technischer Uberwachungsverei" (TUV). It first gets its diagnostic equipment on a car after its third year of service, then every two years after that. If the car fails its first TUV test, it is sent to a repair shop. If it fails again, it's junked.
This year, after almost 7.8 million inspections, the cars that continue to pass muster are the Toyota Prius and Porsche 911 (pictured). For the second year in a row, the Prius earned top marks in the three-year-old category, beating the Toyota Auris and Mazda2. The 911 was found to be the most reliable car after 10 years of ownership. The worst performer after 10 years was the Ford Ka, failing its TUV 38.9 per cent of the time.
Cruiser takes an explosive turn
The Canadian owner of this Toyota FJ Cruiser escaped injury after an acetylene tank inside the cabin blew up while he was at the wheel.
The man said he parked the SUV in his garage overnight and, next morning, noticed the smell of gas.
He opened the door, started the engine, backed it out of the garage, hit the switch to roll down the passenger-side window and ... ka-boom.
The man was lucky to walk away with only temporary hearing loss and a few scratches.
Old gold on film
Honda's CB350 is set for stardom.
Film studio bosses behind The Girl with the Dragon Tattoo wanted Lisbeth Salander to ride a modern motorcycle. But Justin Kell, of custom shop Glory Motor Works in Los Angeles, persuaded them to use a bike a 20-year-old in the 1960s could afford. He re-built a late-60s Honda CB350 to show that an older machine could be as reliable as newer models. The studio gave Kell 30 days to find and build three identical bikes. He did, adding larger batteries and an upgraded starting system to the originals.
The film, based on the first in a trilogy of novels by Stieg Larsson, opens in New Zealand next month.
British learners in fast lane
Learner drivers in Britain are going to be let loose on the country's motorways from next year. The new move is among a raft of changes designed to improve young drivers' skills and reduce fatalities. Road Safety Minister Mike Penning said it was debatable whether Britain's driving test did anything more than train drivers to pass the test.
Statistics show that 62 per cent of young male novice drivers think they are more skilful than the average driver. Almost one in three car crash fatalities in Britain are drivers aged 17-24 or their passengers.
Birthday wish
Volvo has marked the 50th birthday of its P1800 coupe with sketches of what a modern interpretation of the car might look like. Volvo chief engineer Christopher Benjamin, a big fan of the P1800, did the sketches as part of a Twitter chat with fans of the brand. They created a serious stir among the Volvo faithful, but the company made it clear there are no plans to manufacture a new P1800.
Beat this
A 1964 Aston Martin DB5 that belonged to Beatle George Harrison has sold for $700,000 - $300,000 more than expected. It was auctioned in Britain and bought by an unnamed Texan collector.
We are the world
* An Illinois Court of Appeal has thrown out a lawsuit filed two years ago by a brother and sister (now 23 and 20) seeking to sue their mother for bad parenting when they were growing up. Among the claims, says the Chicago Tribune, was mum's failure to send birthday cards or "care" packages during the kids' college years, calling her daughter at midnight to ask her to return home from a party, and failing to take her to a car show.
* Texan Tommy Joe Kelly acted as his own lawyer after being charged with slashing a stranger's tyre. He told a jury in Austin: "Okay, I'm going to tell you the truth on this one ... I had haemorrhoids at that time, super-duper bad." The jury didn't buy Kelly's bum-rap argument and the judge sentenced him to 10 years in jail.
* Pennsylvania man Philome Cesar also did a DIY defence job after being charged with 25 counts of robbery, including car thefts. He cross-examined the prosecution's first witness, asking what the robber sounded like. Victim Daryl Evans answered: "He sounded like you." Cesar asked the second witness the same question. "He sounded like you." Same question of the third witness, same response. That's when Cesar rested his case. Cesar is now resting in jail, convicted of 19 of the 25 counts.
* West Virginia roadkill-cooking activist David Cain says he generally supports Volvo's new driver-safety technology that warns of objects ahead in the road. Cain points out that it is just a warning and that a driver "could still choose to run over something that's good for eating".