New Holden covers 80km in a single stretch and never - in theory - needs gas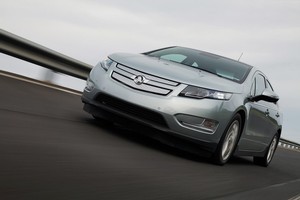 It's the only real-world Electric Vehicle (EV). So said Holden Australia managing director Mike Devereux at the media launch of the Holden Volt in Sydney last week. A bold claim; let's look at the evidence.
Volt is General Motors' new Electric Range Extended Vehicle (EREV), which will be sold in New Zealand as a Holden. It has new-generation lithium-ion batteries that can be charged in six hours from a normal household socket (no special outlet required) and propel the car 60-80km - plenty for most daily commutes, says GM.
Volt also has a 1.4-litre petrol engine to charge the battery pack once it is depleted. It doesn't drive the wheels - it just recharges the battery. This allows it to travel at least 500km, eliminating the biggest problem of electric cars - "range anxiety".
GM insists Volt is a true electric vehicle because it could theoretically be driven solely on battery, with zero emissions, for its entire life.
American talkshow host and certified car geek Jay Leno has driven his Volt 16,000km and not refilled it once.
If the world ran out of oil tomorrow, you could keep driving your Volt. Although only 80km at a time.
Driven had a Volt to pilot at the Sydney event, but only in a warehouse and only at 35km/h. Hardly extensive evaluation, but the car still felt sprightly, thanks to the instant surge of torque from a pure electric powertrain.
It promises to be an enjoyable vehicle, especially as the 200kg battery pack is mounted very low, to improve the car's centre of gravity.
The Volt has been on sale in the US for a year, but it hasn't all been smooth sailing. Last month, a Volt caught fire after a crash test there. It was subjected to a side impact then left sitting, fully powered up, for three weeks. Fluids leaked on to the battery and eventually sparked.
GM claims Volt is as safe as a conventional car and the problem is education on post-crash procedure - an electric vehicle such as Volt must be de-powered after a serious impact.
Devereux reiterated the point in Sydney: "It's a lithium-ion battery issue. The protocols surrounding this stuff are all new."
There will be plenty of time to deal with these issues. Holden will launch Volt this time next year, in updated MY13 guise. It plans to spend a year testing the car, validating the powertrain with local electricity supply and getting a buzz - so to speak - going.
GM has sold about 7000 Volts in the US this year and will boost production to 60,000 cars next year. Sparking interest will be easy. Volt looks and feels great, and seems to provide electric motoring with minimal compromise. The great unknown is price. We'd be surprised if you pay less than $65,000.