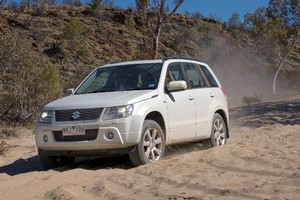 The dilemma
Lee is 20 and lives on her folks' farm north of Auckland where she's taking "time out" before returning to uni.
Sick of having to beg and borrow her father's clapped-out Ford Courier ute, she wants a "clapped-out vehicle of my own". But not just any old dunger. Lee enjoys off-road driving
- "nothing too hard and challenging", though.
So she wants a compact three-door that's not heavy on petrol, is reasonably reliable and has some off-road capability. She's thinking of a Suzuki Vitara (Escudo in its used-import guise). Good choice, but Buyers' Guide has a couple of other ideas too.
Budget: About $6000
The shortlist
Daihatsu Feroza
Popular in their day, Ferozas are fairly rare and those on the market are generally high-mileage. The 1.6-litre Feroza was generally similar to the Suzuki Vitara and just as capable, but lacked the styling that so captured public imagination.
An advantage to some is that, with some trouble, the roof can be removed for summer time open-air motoring.
From $3500
Suzuki Vitara
Suzuki's three-door off-roader caused a sensation downtown and in the 'burbs, but was much more of a vehicle than indicated by the "hairdresser's special" label it quickly acquired.
It's best to stay away from the relatively rare convertible versions and possibly from the automatic model, which is fairly anaemic. A 1.6-litre 60kW eight-valve motor was replaced in 1992 by a 71kW 16-valve version. A 97kW two-litre motor from the Baleno car was sold alongside the 1.6 from 1997, offering 36 per cent more power and 25 per cent more torque. A two-litre 100kW V6 was introduced in the five-door in 1995, but some used-import three-doors also
have it.
From $4500
Toyota RAV4
We're looking at the original model, from 1994 to 2000. Today, Toyota doesn't even make a three-door, but it was once very popular here and prices for good examples have stood up well.
Unlike the other two, the RAV was not designed for more than gentle off-roading, but it's surprising where it will go in the hands of a skilful driver.
From $5500
Driven recommends
It's hard to see any reason for not going with a Vitara. At this age, a competent pre-inspection is important, particularly to find areas of rust. A Vitara used to live in the Buyers' Guide garage, so we can report first-hand that it's a lot of fun and reliable, too. Don't tell other Vitara owners, but the Feroza is slightly better off-road. The RAV is also appealing as a runabout and, if off-roading is factored out, the choice between that and a Suzuki becomes little more than a matter of whose styling you like best.