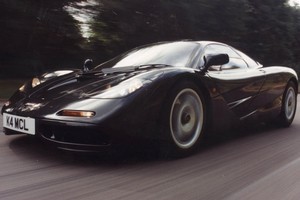 The rich can drive whatever they like, from rare supercar to runabout, reports Liz Dobson
Can't decide what you want for Christmas? Maybe some of the world's richest people can give you some ideas for a four-wheeled pressie with the vehicles they own.
But you may be surprised at their choices of rides. Some of them didn't get to be billionaires by splashing their dosh around on cars, while for others, it's perfectly normal to have a fleet of luxury vehicles in their garages.
Bill Gates
The Microsoft founder and chairman's daily drive is a 1999 Porsche 911 convertible, but also in the garage of his mansion is a rare 1988 Porsche 959 Coupe. Due to the 959's questionable emissions and unknown crash ratings, it took a federal law signed by President Bill Clinton for Gates to legally drive his 959 on American roads. Rumour has it that Gates and Microsoft co-founder Paul Allen employed Microsoft engineers to write a computer program that could simulate the 959's crashworthiness, which helped pass the law.
Ingvar Kamprad
The founder of IKEA, Kamprad is worth US$28 billion ($36 billion), but the Swedish businessman is the proud owner of an 18-year-old Volvo 240 GL. Wonder how many kitset bookshelves he can fit in the boot of that?
Prince Alwaleed Bin Talal Alsaud
As the nephew of Saudi's King Abdullah, Prince Alwaleed is no stranger to the finer things in life, so it's only natural that he drives a Rolls-Royce Phantom. Oh, and that's just one of 200 cars the international investor owns, including Lamborghinis and Ferraris.
Sultan of Brunei
Hassanal Bolkiah owns about 5000 cars that he keeps in five warehouses. A visitor to the Sultan's garages said: "It can take an hour and a half just to get a certain car out if it's been parked right at the back." The cars are driven by the Sultan, his family, ministers of state, officials and members of the royal household. His auto empire includes 350 Rolls-Royces, eight McLaren F1s, six Dauer 962 LMs, the only right-handed Mercedes CLK-GTR in the world, a Lamborghini Diablo Jota, two Jaguar XJR-15s, plus numerous Ferraris, Mercedes, Jaguars, Porsches and Bentleys.
Queen Elizabeth
She may be driven to functions in a specially built Bentley State Limousine but, if it ever breaks down en route, her Majesty is quite capable of fixing it. During World War II, she was a volunteer with the Auxiliary Territorial Service, where she was trained to drive and repair heavy transport vehicles.
The Bentley State Limousine was created for Queen Elizabeth's golden jubilee in 2002 and has a 6.75-litre V8 engine modified from Bentley's Arnage R version. The car has been given an armour-plated cladding, a mine-resistant floor, bazooka-proof glass, and a cabin that can be sealed against a gas attack. These security and safety measures hike the car's weight to almost 4000kg.
Christy Walton
She is one the world's richest women, but the Wal-Mart widow drives a 2011 Ford F150. Walton's late husband, Sam, who died in a plane crash in 2005, was famous for keeping the same pickup long after he became one of the richest men in America, and his widow may do the same.
Mark Zuckerman
The Facebook founder owns an Acura TSX that competes in the US against vehicles such as the Lexus IS, Audi A4 and BMW 3-Series. The car is an entry-level luxury vehicle worth about US$30,000.