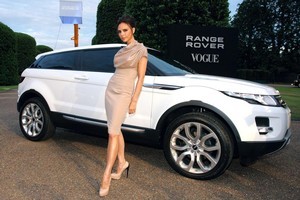 It was a modestly configured Evoque five-door that saved the day. I had back-to-back tests of two examples of Range Rover's new compact crossover: the first was a fully kitted-up three-door (the company calls it a "coupe"), in Fuji White with full Posh Spice specification, including 20-inch wheels, a prestige technology package and striking tan leather. It was incredibly flashy and left me a little uncomfortable about this new model.
True, Evoque is largely about style, but this particular example sported so much show, it threatened to overwhelm whatever substance lay underneath.
The price didn't help: with the 140kW SD4 2.0-litre turbo diesel engine, the coupe costs a minimum of $106,490. With a long list of options fitted, our white test vehicle pushed the final tally up to $127,290.
Then came Evoque No2: a five-door in basic black, low on bling and riding on smaller 19-inch alloys. Under the bonnet was the 110kW TD4 turbo diesel.
Without the bedazzled styling detail of the coupe, the five-door really appealed. Front and rear, you'd not mistake it for anything other than a Range Rover. And while the larger Sport and Vogue models make a feature of upright rooflines and huge glass areas, the Evoque's chopped-down profile manages to achieve the same "floating glasshouse" effect with the same blacked-out pillars.
Land Rover assures us that the Evoque is fantastic off-road in the context of compact crossover vehicles. I'm sure it is, as that's expected in any Land Rover and the company would be foolish to mess with that expectation. Besides, the Freelander, which lends at least 30 per cent of its platform to Evoque, is fantastic in the rough. Land Rover's super-simple, highly effective Terrain Response system is standard.
But we'll talk no more about that because the Evoque is the first Range Rover designed primarily for on-road use. It's an impressive thing: plenty of effort has gone into soundproofing and the result is an extraordinarily refined vehicle, even with a diesel engine under the bonnet.
It's not fast, particularly in 110kW form, but performance is sprightly enough to please with a six-speed automatic gearbox/four-wheel drive, and the chassis has an unflustered demeanour.
Evoque might be the least expensive Range Rover, but there's no way you can look at it and think it's cheap. The base prices are scary, but stuff you'd swear should be standard on a $100k car is still optional: sat-nav is part of a $7140 pack, a reversing camera (a must on this car) is $840, keyless entry is $1900 and so on.
Personalisation is a big part of the sales pitch. There are three specification levels (Pure, Prestige and Dynamic), three engines for each and an exhausting list of optional items.
Value? That depends what price you put on driving a genuine Range Rover. I loved the Evoque five-door because it looked and felt like a baby Range Rover, which is quite an achievement for something the size of a Toyota RAV4.
The optioned-up Evoque coupe less so, but I can see how a car that looks this avant-garde might have a market in such highly decorated specification.
The longer you spend with it, the more surprise-and-delight details you find - like the puddle lamps that cast a spotlight on the ground containing a shadow-picture of the car. Gimmicky but appealing. Perhaps Evoque does offer something for everybody after all.
The bottom line:
Will the ultra-expensive, fashion-forward Evoque seem as exciting in six months' time? Impossible to say. But the good news is that there's substance underneath that striking exterior.
Alternatives:
Audi Q5 2.0 TDI S-Line $94,900
BMW X3 20d $87,900
Jeep Grand Cherokee Overland $91,990
Mini Cooper D Countryman $51,600
Volvo XC60 D5 R-Design $85,990