Subaru is mounting an ambitious world campaign and NZ is a part of it, writes Alastair Sloane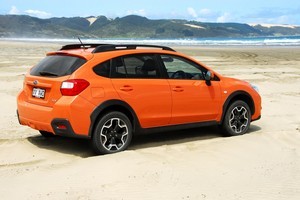 Subaru launched its all-wheel-drive crossover XV on Northland roads this week in readiness for the vehicle's appearance in numbers in February.
The XV is the first stage of an ambitious plan by parent Fuji Heavy Industries to boost global sales over the next five years. It will be followed by a handful of new all-wheel-drive models - including a hybrid and replacements for the Impreza, WRX and STi - that Subaru plans to launch by 2016 to meet a global sales target of 900,000 vehicles, up from 657,000 last year.
Subaru is looking for the XV to create a niche for itself rather than being another member of the Impreza family.
"We are not marketing XV as a road car - for us it is a Kiwi-style car," said Subaru NZ managing director Wallis Dumper.
"Just as Forester and Outback pioneered new segments for Subaru in New Zealand, XV will do the same.
"It's a clear indicator of what's to come from Subaru in terms of new technology and design.
We are confident it will help grow our business for us."
The XV is the first model spun off the new Impreza platform and the first to show off the carmaker's new styling direction and its "Confidence in Motion" brand banner, highlighting what Subaru says are its core engineering values of dynamic performance, safety, driving enjoyment and quality. Part of the company's five-year growth strategy is a plan to cut development costs of vehicles by 20 per cent. Subaru calls it "Motion V".
It includes the development of safety systems such as EyeSight, a camera-based pre-crash system that will appear first in the Legacy range.
Much of the planned growth is to come from the United States and China. Subaru sold a record 264,000 vehicles in the US last year and aims to boost sales by 24 per cent to 380,000 over the next five years. Sales in China are expected to almost triple to 180,000 by 2016.
The XV brings the first of Subaru's lean-burn 2-litre petrol engines with a stop-start fuel-saving system and second-generation SLT Lineartronic transmissions, or Continuously Variable Transmission in another language.
The flat-four unit delivers 110kW at 6200rpm and 196Nm at 4200rpm. The carmaker claims town-and-around fuel use of 7 litres/100km, or 40mpg.
Driven sedately, this is probably possible, although Driven's pressing run around some demanding roads at the top of the North Island left a fuel readout of 8.6 litres/100km, or 33mpg.
The CVT is a chain-link belt, rather than a steel belt. Subaru claims the chain-link is more flexible and allows more ratios.
But, like most CVTs, jumping on the throttle gives the impression that the rise in revs means the CVT is hunting for a suitable gear ratio. This isn't the case, of course.
The XV is a versatile performer, impressive indeed.
Three spec levels will be available: the 2.0i six-speed manual at $38,990 and the CVT at $40,990; the 2.0i-L at $44,990; the 2.0i-S at $48,990.