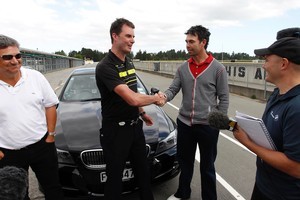 The Aussies gave us plenty of stick in the cricket at Brisbane and pretty much had the BMW NZ Golf Open in Christchurch to themselves - but their sole representative in a track day outing at Ruapuna was outgunned.
BMW test driver Mike Eady invited Kiwi golfers David Smail and Marcus Wheelhouse and Australian Peter O'Malley to do some fast laps of the 3.3km circuit. The lap record is 1min 18sec, held by race driver Daniel Gaunt. Eady gave the golfers some hands-on training before setting them loose. Smail recorded 1:48.50; Wheelhouse 1:50.73; and O'Malley 1:54.22.
Smail reportedly has a collection of go-fast cars. O'Malley has an M3 coupe at home in Sydney.
We are the world
* Emmalee Bauer, 25, was fired by the Sheraton hotel company, but she sought unemployment compensation under Iowa law that affords benefits to employees terminated through no fault of their own.
However, the judge decided Bauer did not qualify, said the Des Moine Register. She had written a 300-page journal, during office hours, describing her efforts to avoid work. Among her entries: "This typing thing seems to be doing the trick. It just looks like I am hard at work," and, "Once lunch is over, I will come right back to writing to piddle away the rest of the afternoon."
* Police in Atlanta, Georgia, were having problems with the electrics in a patrol car, so they called in a towing company to take it to a wreckers'. Somehow the car got lost along the way and ended up in an auction. Chattanooga, Tennessee, man Luke Ridings bought it for US$4000 ($5100) and headed down the highway, flashing the lights and drinking beer at the wheel. Now the cops and the towing company are trying to figure out what went wrong. Ridings was charged with underage drinking and driving an unregistered vehicle.
* Minnesota man Andrew Espey was sentenced to 90 days in jail for improperly shingling the roof of his house. Espey complained: "A drunk can drive down the highway and get a lot less [of a sentence]." Espey had affixed new shingles without first removing the old ones, a building-code violation in the state.
Lawsuit for Fiat
Fiat has had nothing but trouble from its 500C commercial featuring Jennifer Lopez. After a body-double scandal and reports that the vehicle broke down during filming, Fiat then found itself in the crosshairs of a lawsuit. The artists behind a copyrighted mural in New York sued the carmaker for using the image without their permission. The New York Times reports that the two parties have settled their differences out of court.
McQueen's suit
The racing suit that screen hero Steve McQueen used in the 1971 film Le Mans goes up for auction in the United States next week. The two-piece Gulf Racing suit was donated to British newspaper The Observer for a reader competition when filming ended in 1971. It remains complete with its American flag, Gulf, Heuer Chronograph and Firestone sponsor patches, as well as McQueen's character Michael Delaney's name stitched in blue. It is expected to fetch more than US$200,000 ($256,400).
Golden anniversary
Mercedes-Benz and Ducati joined forces a little over a year ago and the two brands chose the Bologna Motor Show to mark the anniversary. They showed off an SLK 55 AMG roadster and a Streetfighter 848. Both machines are painted in Streetfighter Yellow and Mercedes-Benz says that AMG may permanently add the colour to the personal option list if there's enough demand. The SLK 55 AMG also wears custom yellow contrasting stitching on interior pieces like the sport steering wheel, seats and dashboard, and a set of yellow-illuminated door sill plates further reinforces the theme.
Max satisfaction for Mini buyers
Mini is the brand that ticks all the customer-satisfaction boxes, says automotive research company JD Power and Associates.
Its study this year of the United States vehicle-buying process found that Mini buyers were happiest in the mass-market segment. It evaluated four categories: the deal, salesperson, delivery process and dealership facility. Overall sales satisfaction actually increased over last year, something JD Power believes may be because of carmakers focusing on improving dealer experiences.
Lexus beat out the rest of the luxury brands to take first place, with Cadillac and Mercedes-Benz trailing close behind. Volvo was dead last among luxury makes; Jeep took the bottom spot in the mass market.
Insurer adds insult to tragedy with 'risk pool' policy
Insurance company research on claims determines a driver's likelihood of getting into an accident.
That's why it's more expensive for young men to insure their vehicles than it is for young women, and why married couples can enjoy a discount on their coverage compared with single friends. But what happens when a drastic life-change moves an individual out of one risk pool and into another? American magazine The Consumerist reports that for one young widower, losing his wife to cancer also meant a 10 per cent increase in his premiums.
The man called his insurance company to remove his spouse from his policy, expecting the decrease in the number of household drivers to translate into a lower bill. The company expressed sympathy for his loss, but explained that since the man was now single, he had been put into the same risk pool as other unattached drivers.