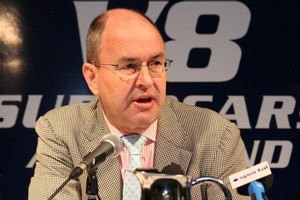 Hampton Downs Raceway has offered its services as a long-term venue for the New Zealand V8 Supercar Championships.
With Hamilton hosting its last V8 Supercars event next April, the future for the championships looked bleak in New Zealand, with few circuits in the country up to scratch.
Championship chairman Tony Cochrane yesterday (Wed) doubted Hampton Downs would be suitable. He said the track wasn't long enough, a resource consent was needed for crowd numbers, plus there would be traffic issues at the venue which is located on State Highway 1 south of Auckland.
But Hampton Downs' managing director Tony Roberts today released a statement saying the track would be ready to host the event from 2013 onwards.
"We have been working with a consortium of financial advisors, planners and investors for the past year analysing potential track operations and the future for a motorsport-focused business park," Roberts said.
"Based on that work we anticipate being in a position to take our proposal to the V8 Supercar organisers in the first quarter of next year.
"Hampton Downs has the potential to be the long-term future home of motorsport, and the pre-eminent motorsport park in Australasia.
"It already has a fully functioning 2.7 kilometre track with the necessary FIA Category 3 standard for V8 Supercar racing, and we have resource consent to extend the track to 3.8 kilometres.
"This extension can be undertaken at any time and could be completed a full year ahead of when the track would be needed for the V8s.
"When fully completed spectators will have extensive views of the track from various vantage points.
"Our current resource consent allows us to hold events with up to 20,000 spectators and we have the land capacity to easily accommodate more than 60,000 people.
"Hampton Downs is 45 minute drive down State Highway 1 from downtown Auckland, and has a population catchment area of more than a third of New Zealand's population within an hour's drive, and half the population within a three hour drive."
Roberts suggested any traffic issues could be eased through a park and ride scheme.
"While Hampton Downs has ample room to cater for large numbers of cars and buses, we are in discussions with the local authority to develop park and ride facilities within 10 minutes of the venue, and the racetrack is located between two existing train stations within 10 minutes.
"There are 23 months between now and when the 2013 V8 event is scheduled to be held in New Zealand, which is sufficient time for Hampton Downs to be upgraded to host more than 60,000 spectators, the track extended and other infrastructure completed.
"While not ready to release the details of our proposals, we are making this statement to counter the suggestion that the V8 supercar series will inevitably be lost to New Zealand."
- APNZ