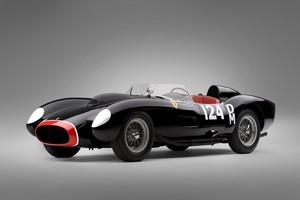 Ferrari is mourning the death of Sergio Scaglietti, the designer who joined forces with Enzo Ferrari to produce some of the most legendary and most sought-after cars in the company's history.
Ferrari chairman Luca di Montezemolo said Scaglietti would forever be connected with the prancing horse badge.
"Sergio Scaglietti leaves behind the legacy of an artist who, with his talent, created some of the most beautiful cars of our history. Those who had the luck to know him like I did will also remember him as a straightforward, honest man completely dedicated to his work."
The legendary coachbuilder created some of the most famous Ferraris, such as the California, the 250 Testa Rossa, the 250 GTO and the 750 Monza. He said he made them with his hands and eyes.
Scaglietti, son of a carpenter, became known as the "maestro of aluminium", such was his skill in designing and shaping the metal.
His relationship with Enzo Ferrari started when, as a young mechanic, he was asked to repair a mudflap on one of Ferrari's early cars.
In 1951 he opened his own business, Carrozzeria Scaglietti. He was 17. Shunning paper and pencils, Scaglietti produced cars from within his head and through his skill with a hammer and aluminium.
Carrozzeria Scaglietti is now part of the Ferrari company.