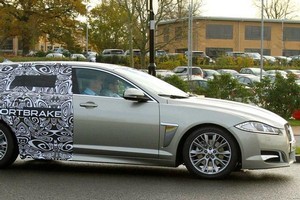 The new Jaguar XF estate will offer all-wheel-drive and be badged the Sportbrake when it goes on sale towards the end of 2012.
The near-production wagon has been spied testing near Jaguar's base in Coventry before its official unveiling at the Geneva Motor Show in March.
The new model finally gives Jaguar a rival to the Audi A6 Avant, BMW 5 Series Touring and the Mercedes-Benz E-Class estate.
Although the protoype pictured here has been disguised slightly, the rear end of the Sportbrake is expected to be stylish and sleek with a coupe-style C-pillar giving the design some drama.
The rear lights will be inspired by the LED units from the XF saloon.
The rest of the car is standard Jaguar XF, but in the back expect the usual array of estate car-style split/fold rear seats, and possibly even a twin-height boot floor.
As the name suggests, the XF is not designed to be a huge estate car like the E-Class, which has 695 litres with the rear seats up and 1950 litres with them folded.
Instead, the XF Sportbrake is likely to approach the Audi A6 Avant (565/1680) and the BMW 5 Series Touring (560/1670).
Engines will be carried over from the current XF with the range kicking off with a 2.2-litre diesel, along with V6 diesel and V8 petrols.
A high-performance R version has not yet been confirmed, however. Given its more practical focus, the Sportbrake is expected to be the first XF to get four-wheel drive.
Meantime, the Jaguar XKR-S has been awarded 2011 Sports Car of the Year by the German motoring magazine Auto Bild Sportscars, after a poll of more than 70,000 of its readers.
The XKR-S - the most powerful production car Jaguar has built - took 14.3 per cent of all votes, ahead of the Mercedes C63 AMG and Audi RS5 in their home market.
The XKR-S Coupe was recently tested by Auto Bild on the famous Nurburgring circuit, which it lapped in just 7min 51sec, or about 25sec off the pace of the time claimed by Lexus for the V10-powered LF-A coupe.
The 5-litre supercharged V8 engine in the XKR-S delivers 412kW and 680Nm, enabling it to sprint to 100km/h in 4.2sec before going on to reach an electronically limited top speed of 300km/h.
A total of 173 cars in 17 categories competed for the Auto Bild award.
"Winning the first prize in a segment dominated by premium German competitors makes us particularly proud," said Mike Wright, executive director of Jaguar Land Rover.