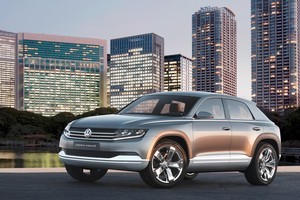 Volkswagen's new Cross Coupe points to how the next Tiguan and Touareg will look - but the four-wheel-drive hybrid concept could be in production itself before the Tiguan and Touareg arrive.
The rival to the Range Rover Evoque was unveiled by VW design boss Klaus Bischoff at the Tokyo motor show.
And a spokesman for the company admitted it would be closely gauging reaction to the concept before making a decision on its future.
"It would be very easy to do. It is the first VW to be based on the MQB platform, which will underpin many models across the company, so it would not be difficult."
And he admitted that the success of the Range Rover Evoque meant a three-door model would be a possibility too. "If the market demands it, we would do it," he said.
To keep up with the stylish Range Rover, Volkswagen has applied the latest evolution of its design language to the Cross Coupe, including headlights that flow seamlessly into the grille.
The sloping roofline gives the concept a coupe-like profile, but huge wheel arches and oversized bumpers maintain the SUV look.
Inside, there's a four-seater layout that should give plenty of space for passengers thanks to a 2630mm wheelbase. That's 26mm longer than the Tiguan's, even though VW's small SUV is shorter overall.
The dash is mostly free of buttons, with two rotary knobs to adjust the climate control and a touchscreen display that takes care of in-car entertainment.
To keep the Cross Coupe practical, there's a 380-litre boot and rear seats that fold flat to reveal 1230 litres of storage. All that space comes courtesy of clever packaging. The petrol-electric hybrid's battery packs are located inside the centre tunnel so as not to intrude on the cabin.
Power is from three sources: a 110kW 1.4-litre TSI petrol engine, a 40kW electric motor on the front axle and a 85kW electric motor on the rear axle. This last motor is only used when the Cross Coupe is running in its pure electric City or all-wheel-drive Offroad modes.
Volkswagen says that in pure electric mode the new car can be driven for up to 40km and can be recharged by the mains or the petrol engine. Fuel economy is a claimed 2.6 litres/100km (105mpg), while CO2 emissions are only 62gr/km.
Despite these impressive green credentials, the Cross Coupe will still accelerate from zero to 100km/h in seven seconds.
It also has can hit a top speed of 200km/h - although in electric mode this is limited to 120km/h.