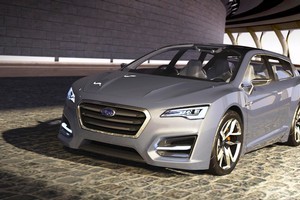 Subaru has provided the first hints of how its next-generation Legacy is shaping up with the Advanced Tourer Concept.
The ATC, unveiled at the Tokyo motor show, gets an aggressive front end that features an updated version of the signature Subaru grille and headlights.
Inside are wood and polished aluminium surfaces with leather trim and a full glass sunroof.
Designers have also fitted a large television monitor inside the steering wheel that displays GPS satellite-navigation directions and has direct access to the internet.
It also incorporates Subaru's new EyeSight crash avoidance system that employs two cameras mounted above the rear view mirror that monitor traffic conditions and can detect pedestrians and cyclists.
Underneath the bonnet is a glimpse into Subaru's future powertrain line-up. It has downsized its 2.0- and 2.5-litre turbocharged boxer engines to create a cleaner, more efficient 1.6-litre turbocharged unit mated with an electric motor.
There are no official figures but engineers claim the set-up can be tuned to match the 195kW output of the boosted 2.5-litre engine.
The 1.6-litre turbo engine includes direct fuel injection and showcases technology that will guide the brand's future engine strategy. Subaru says it improves combustion efficiency at practical driving speed and is mated to a Lineartronic Continuously Variable Transmission, refined to meet the high power output of the turbo engine.
Working together with a revised version of Subaru's symmetrical all-wheel-drive system, the Tourer Concept can be driven in electric-only mode for a short distance and at low speeds. Otherwise, the system will shuffle power between the four wheels.
A single motor hybrid system is used for its simple structure and light weight. When decelerating, the regenerating mechanism uses the motor as a power generator.