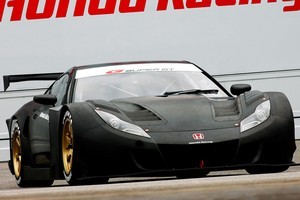 Honda's revered NSX badge tipped to reappear at Detroit motor show
The first clues to Honda's likely NSX successor will be unveiled at the Detroit Motor Show next month with a hybrid concept known internally as the Super Sports.
The return of the famous badge picked up speed after a mysterious Acura concept was spotted last month on the set of the new Avengers movie in New York, alongside the film's star, Robert Downey Jr.
Honda refused to comment on the pictures, but it's thought the mid-engined roadster could be the car in question.
Should the model make production, as is expected, it is likely to go on sale by 2013. Honda even took the bold move of showing a fleeting image of a sleek, silhouetted image of the model at a technical presentation to journalists at its Motegi Twin Ring facility.
Research and development boss Yoshikazu Kigoshi said: "It will define the new face of Acura [Honda's premium US brand]."
But the car is set to go on sale worldwide, and it will wear the Honda badge in Europe and possibly even resurrect the revered NSX name.
Analysts say new Honda chief Takanobu Ito was stung into action after suggestions that a company once famed for its sporty cars and engineering expertise had lost its way.
"This is the start of a new direction for Honda," he said. "We need a halo product."
The chief operating officer of research and development, Toshikiho Nonaka, outlined the company's agenda when he confirmed: "We are investigating a Super Sports car that pursues exhilarating fun."
The Dual Note 4WD hybrid concept from the 2001 Tokyo motor show was the first glimpse of technology that will underpin the NSX. It used a 3.5-litre V6 to drive the rear wheels and in-wheel electric motors to turn the fronts, generating over 300kW.
Ten years later, Honda is expected to reveal a VTEC V6 engine of between 3.5 to 3.7 litres, while the twin electric motor set-up will be powered by lithium-ion batteries and employ a plug-in recharge system for a small electric-only range.
Other technology which could be used is the company's new Super-Handling All-Wheel Drive system.
This torque-control system transfers energy from inside wheels to outside wheels while cornering to maximise stability.
Nonaka acknowledged SH-AWD would be ideal for a new flagship performance model when he said: "We do have an understanding that lightweight, speedy, sporty vehicles are needed for this system."
Honda had built an NSX successor by 2008 but it was mothballed when the global financial crisis bit deep. However, the carmaker even went so far as to campaign a version of the machine in the Japanese Super GT series.