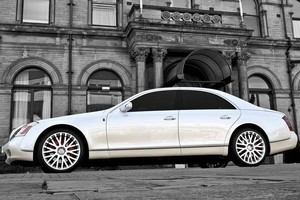 Mercedes-Benz is expected to shut down its super-luxury Maybach brand in 2013 in favour of the Pullman badge.
The Maybach nameplate first appeared early in the 20th century and was resurrected in 2002. But it failed to meet sales targets with its two core models, the Maybach 57 and 62.
Both Maybach models will go through to the end of 2013, after which the fifth-generation S-Class will go on sale.
Three new variants of the S-Class will be available, including an all-new, range-topping S600 that brings back the Pullman moniker to compete with the likes of Bentley and Rolls-Royce.
Mazda in loop for electric future
Mazda is working on a solution to the energy storage needs of electric vehicles with a system it's calling i-ELOOP. The name is a bit clumsy but the system isn't, say analysts, because it does away with an electric motor in the drivetrain.
Mazda claims i-ELOOP captures energy from braking and stores it in a capacitor - a device that consists of one or more pairs of conductors separated by an insulator.
It releases its energy to recharge the battery and help power components such as air-conditioning systems.
Mazda says i-ELOOP promises fuel savings of up to 10 per cent.
'VW law' lands Germany in strife
The EU Commission continues to hammer away at the so-called Volkswagen Law. The German state of Lower Saxony has a 20.1 per cent stake in the carmaker, which means it can veto any takeover deal. It came in handy a few years ago when Porsche was working to gobble up VW. But the law was struck down by the EU Court of Justice in 2007. Germany then scrapped the old VW Law but wrote another one that pretty much gave Lower Saxony the same rights. Now the EU is taking Germany back to court. But it wants to put some pain into the judgment: a fine of €31,000 ($54,062) a day for every day since the original 2007 judgment.
GM calms drama
General Motors is giving owners of the plug-in Chevrolet Volt a free loan car - to ease fears that their own car might suddenly catch fire.
A Volt spontaneously ignited three weeks after undergoing an official US crash test and GM wants to dampen the negative publicity. The cause of the fire was a ruptured coolant line in the battery, which prompted a new safety probe into the Volt.
The US Government says: "Chevy Volt owners whose vehicles have not been in a serious crash do not have reason for concern." GM North American president Mark Reuss adds: "Our customers' peace of mind is too important to us for there to be any concern or any worry. This technology should inspire confidence and pride, not raise any concern or doubt."
Bouquets for BMW
A Corporate cabbie ferrying guests to this week's golf championship in Christchurch is happy with title sponsor BMW New Zealand and its managing director Mark Gilbert. He told Gilbert the city owes a debt to the carmaker for not backing away from the event after the February earthquake. "I shook his hand twice," said the cabbie. "It means a lot to Christchurch that BMW stuck to its guns." Mayor Bob Parker said the same at a welcome party for golfers. Gilbert was born and bred in Christchurch.
Toyota, BMW in bed over green tech
Toyota and BMW have reportedly begun talks on swapping their signature "green" technologies. The Japanese carmaker would open up its hybrid technology to BMW, while the Germans would provide diesel engines for Toyotas. BMW's gain would be in the US, where hybrids are more popular than in Europe, while Toyota's interest is in shoring up its diesel position in Europe. But analysts are asking how Lexus will feel about its parent company doing a deal with a luxury rival.
Back to the bad old days
Two years ago, the US Insurance Institute for Highway Safety celebrated its 50th anniversary by crashing a 1959 Chevrolet Bel Air head-on into a 2009 Chevy Malibu. The Bel Air did not come out of the collision well. Now TV show Stuntbusters has done the same with two Cadillacs - a 1962 Sedan de Ville and a 2002 Deville. The finding? You don't want to crash a car without modern safety tech. See YouTube.
We are the world
The name "Toto" is synonymous in Japan with electronic toilets, whizbang things that flush every which way, even play music. Now Toto has come up with a toilet bowl on a motorcycle. The aim is to convert the waste into fuel, making it self-propelled, if you like, and contributing to the company's goal of cutting CO2 emissions by 50 per cent.
A Los Angeles jury is to decide if a California sheriff's deputy used excessive force in beating and pepper-spraying a black motorist for not wearing a seatbelt. A district court judge earlier ruled the cop's actions were justified. But a US Court of Appeal overturned the decision. The cop's explanation: The motorist, waiting for the deputy to finish his report, was sitting on a curb eating a bowl of broccoli and the deputy had to beat him out of fear the motorist would throw the broccoli at him and attack him.
Kentucky man Clyde White has been charged with attempted murder after a road-rage chase at speeds of more than 170km/h. White, 78, was cranky with his brother, 82, and sister, 83, and was trying to run them off the road.