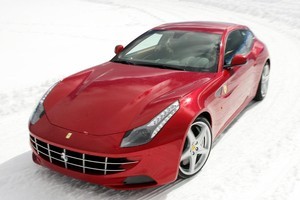 The revolutionary Ferrari FF has made its New Zealand and Australian debut in Queenstown, with prospective owners driving the car for the first time on challenging roads around the South Island city.
Kevin Wall, general manager of Ferrari in New Zealand and Australia - and a Kiwi - explained that Queenstown had everything that was needed to demonstrate the $635,000 Ferrari FF's prodigious abilities.
"Queenstown was an easy choice as the launch venue for the Ferrari FF for both our New Zealand and Australian clients," he said.
"We had a superb choice of venues from which to base our launch programme, with good links for flights to and from both New Zealand and Australia, the roads are some of the finest places to drive in the world and the ... scenery is remarkable.
"But more than that, we were able to show that the Ferrari FF offers not just supercar performance, it is able to do so under a range of road and weather conditions that would have been previously unthinkable.
"At the same time, its spacious and luxurious interior means that the Ferrari has the ability for two people to take a long holiday and have room for all their luggage, or four people may go away for a long weekend.
"No other car can offer this range of abilities and Queenstown demonstrated clearly and unequivocally to our valued clients that the Ferrari FF is a new benchmark for a supercar."
The first deliveries of the Ferrari FF will start in January and, no doubt, the new owners will be looking at Queenstown as a likely holiday destination.