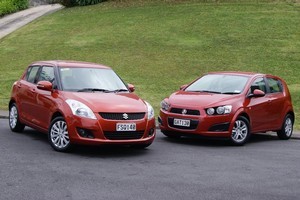 Make your small car look right, then price it right, and the people will come. Maybe it really is that simple.
Look at the Suzuki Swift, a humble supermini that not only tops the small-car charts, but also the passenger-car charts overall at times (it's currently number two, behind Corolla and ahead of Commodore).
It looks cool, and at $20,700, it's cheap as chips. Even the upscale Limited version tested here is $23,500.
That's the best-selling supermini around, then. Take a look at one of the newest, the Holden Barina, and you can see the Aussie maker's Korean arm has followed a similar template. It's totally style-led and the single-specification model starts at $22,990.
Will the buyers come? That remains to be seen. Should they? Let's find out.
On paper, Barina is one of the largest cars in the segment, while Swift is one of the smallest. So already it's looking good for Barina, especially when it's also $510 cheaper and boasts some big-car stuff the Swift Limited lacks, like Bluetooth cellphone connectivity and cruise control.
Cabin styling is classic (Swift) versus kooky (Barina). Both are impressive in terms of design, although both are also clearly built down to a price, with hard plastics and the odd wonky join.
Of the two, it's Swift that has a higher-quality feel and better ergonomics, but we do have a soft spot for the motorcycle-inspired dashboard of Barina. Swift has the better audio unit; both cars have steering wheel-mounted controls and USB connectivity with full iPod integration.
The Barina is a noticeably larger car inside - a comfortable way to carry four adults (five at a pinch) with good leg and headroom in the back.
Swift is bigger than the previous model but still not family-sized - it's best considered a two-seater with space for occasional passengers in the back. The 210-litre boot is 80 litres smaller than Barina's, too.
There's parity in engine performance - in that both are pretty disappointing. The new Swift's 1.4-litre is less powerful and less engaging than the 1.5-litre it replaces. The Barina's 1.6-litre is carried over from the old model and it's average in most respects, although the extra capacity means Holden wins the power race: 85kW/155Nm versus 70kW/130Nm. Economy goes Suzuki's way, with 5.5 litres per 100km against the Holden's 6.8 litres. Both test cars were manual .
Which is something Suzuki is rather good at - the Swift's five-speed, three-pedal gearbox is a delight. The Barina's rubbery manual shifter is joyless in comparison.
The same flavours carry through to chassis performance. The Suzuki is nimble. The Barina is comfort-oriented and there's nothing wrong with that, but even in that context ride and body control are not well-served by the soft suspension.
The verdict goes to Swift. It's easy to criticise the car for sticking so close to the previous model, but Suzuki has hit on a formula that works, so why change it?
The bottom line:
Stellar sales prove that Swift is still a winning formula. Barina is impressively bold, but can't keep pace with its rival on driving dynamics and perceived quality.
Alternatives
Ford Fiesta LX $23,990
Honda Jazz S $24,700
Mazda2 Classic $23,245
Nissan Micra ST $22,600
Toyota Yaris YR $23,790