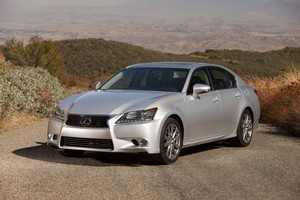 Top-end Japanese badge Lexus is developing a small hybrid engine to allow its new GS luxury car to compete with more economical European rivals.
Koji Sato, deputy chief engineer of product planning, said at the Los Angeles motor show: "We are working on a number of solutions to offer low CO2 emissions, and these include a small hybrid."
The new GS is expected in New Zealand later next year.
Two models are likely - a range-topping GS450h with a 250kW 3.5-litre V6 hybrid and an entry-level GS250 with a 150kW 2.5-litre V6.
A small economical and low-emission hybrid would enable the GS to compete against models such as the BMW 520d and Audi A6 2.0 TDI. Lexus has no plans for a diesel version.
"Lexus has a strong association with hybrid and we want to continue to develop this," Sato said.
Although there are no details on the new powerplant, it is likely to sit at the entry point to the range and be a four-cylinder petrol engine mated to an electric motor. Combined power output would be about 135kW.
Sato said the engine would have to boast fuel economy and CO2 emissions on a par with the BMW 520d, so expect the model to emit 120gr/km of CO2 and return 5.6 litres/100km.
The new model, with considerable gains in fuel economy and low emissions, could open the door to huge sales in Britain and Europe, allowing Lexus to attract more company car drivers.
A decision on the exact specification of the new hybrid engine is imminent.
An announcement is expected before the launch of the GS in Britain in June. Sato said there was a strong desire within Lexus to produce a high-performance BMW M5-rivalling GS F model, following in the footsteps of the IS F.
"The GS has an all-new chassis with wider tracks, double wishbones at the front and a multi-link rear set-up," he said. "It would make a very good base for a performance car."