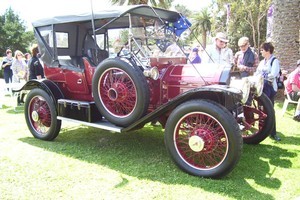 A Lanchester built in 1912 for an Indian maharaja is expected to sell for about $200,000 when it goes under the hammer this week in the UK.
The limousine, made for the Maharaja of Rewa, could reach 96km/h.
The vehicle had a fan built into the roof and a special servant's door. Because the Maharaja liked driving it himself, he had a gap left in the passenger side where his chauffeur could sit on the floor with his feet on the running board.
It is one of only three known 38hp Lanchester cars in existence and is the earliest of them. The car has leather seats, windows that lower like those in trains, and the engine sits between the driver and the passenger.
It is being sold by a collector at the Bonhams sale at in Weybridge, Surrey. Stewart Skilbeck, a motoring specialist for Bonhams, said: "Lanchester were unusual because they made the engine, chassis and the coachwork as well. The roof could be taken off and it has what was known as a 'fat man's steering wheel' that collapsed so it was easier to get in."