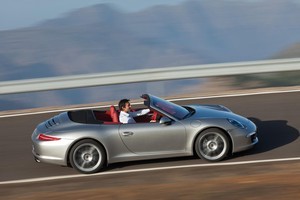 Porsche has made available the first pictures of the new 911 Carrera Cabriolet, which will debut at the Detroit motor show in January and land in New Zealand in April, about a month after the 911 Coupe.
Porsche's latest convertible brings the same weight-saving gains as the new 911 Coupe, but adds a revolutionary folding hard-top roof for the first time.
The 911 Cabriolet's first non-soft-top roof is a fabric and composite plastic folding hood, supported by a lightweight magnesium frame, which Porsche says provides a cleaner, smoother appearance, improved aerodynamics and greater refinement.
It replaces the traditional multi-layered fabric structure of its forebears with a specially developed lightweight hood that is patented by Porsche and is likely to appear on next year's third-generation Boxster roadster.
It features fabric-skinned composite upper and rear panels, and a glass rear window fixed directly to the outer fabric skin.
The result is a more uniform shape with a tauter fit, which is likely to better resist buffeting at high speeds.
There are no pictures of the roof mid-fold but, as on previous 911 Cabriolets, the electrically operated hood concertinas and folds into a rear tonneau cover ahead of the engine.
The process is said to take 11 seconds at speeds of up to 60km/h.
In addition, the new 911 Cab has also features an automatic wind deflector.
Porsche is promising that the 911 version will be the best-handling Cabriolet yet, thanks to its lower kerbweight, wider front track, stiffer body and longer wheelbase.
Carbon-ceramic brakes will be offered as an option to improve stopping power, while the rear wing adjusts its position when the roof is down to maximise downforce.
The car also offers a host of driver assistance systems, such as PASM (Porsche active suspension management) and PTV (Porsche torque vectoring), which controls the amount of power fed to each wheel in order to increase cornering speeds.
The performance-oriented Sport Chrono pack lowers the car's suspension by 20mm.
Each of the two new Cabriolets has the same engine as its Carrera Coupe equivalent.
The rear of the 911 Carrera Cabriolet houses a 3.4-litre flat-six engine generating 257kW.
The Carrera S Cabriolet runs a 3.8-litre unit delivering 294kW. Buyers have the choice of a seven-speed manual gearbox or a PDK seven-speed semi-automatic.