Sixth generation 3 Series admirably user-friendly thanks to tech wizadry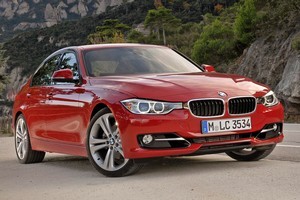 It's a good thing that BMW chose Spain to show its sixth-generation 3 Series to the world, because whizzing through the hills beyond Barcelona, the roads resemble some of New Zealand's provincial highways - only with no sheep and lots of terracotta.
Then, closing in on downtown Barcelona, the motorways begin to resemble Auckland's at rush hour, with more than a touch of the familiar crazy driving.
Loaded and primed with some of the latest vehicle technology, and with its beautifully refined chassis, the red 328i Sport under Driven's command handles with dismissive ease whatever road conditions northeastern Spain's Catalonia region can muster. It laughs in the face of adversity.
Some of its techno-whiz has migrated from the 5 Series and 7 Series, but other features make their debut on the car.
It's a long run all the way to Spain to try a new car, but fortunately the 3 Series will be here in the new year - mark March or early April in the diary.
The car will initially come in two engine versions, the 320d diesel (135kW and 380Nm) and the 2-litre 328i petrol (180kW and 350Nm from only 1250rpm), with a 3-litre six-cylinder 335i petrol arriving about three months later, producing 225kW and 400Nm at 1200rpm.
The 3 Series is ground-up new and among features to look for are twin-turbos on all engines, an eight-speed automatic gearbox and a standard auto start-stop function.
BMW has already built some 2.6 million cars with stop-start.
Many of its technical features have been designed to stretch more distance from a tank of fuel - petrol or diesel - and to lower CO2 emissions, but their sum is to add to the overall driving experience that BMW aficionados hold dear.
A console-mounted control offers comfort, sport, sport-plus driving settings, as well as an Eco mode.
The Eco setting provides the thriftiest driving and lowest CO2 emissions.
And there's less to come, with the introduction next year of an ActiveHybrid 3 version with an electric motor attached to the transmission.
Its CO2 emissions will be under 150g/km. BMW is touting this as the first full-hybrid sports sedan, but New Zealand bosses are still not sure whether it will come here.
At the other end of the scale, the Sport-plus setting puts a tiger into the tank, with a hard edge of performance all but unrestrained by the Electronic Stability Program.
A smart new exterior is the most obvious change to the world's best-selling premium car, which in New Zealand competes fiercely with the Audi A4 and the Mercedes-Benz C-Class.
Like the latest 5 and 7 Series, it loses some of the more extreme lines of recent predecessors while retaining links to the 3-Series shape.
The car has grown in most dimensions. It's nearly 100mm longer at 4624mm and has a 50mm increase in wheelbase, a wider track and a 9mm height boost. Boot capacity of 480 litres is 20 more than before.
Despite the size increase, the car is around 45kg lighter than the outgoing model. The stretch provides better space for rear-seat passengers and delivers a more sporting silhouette.
"The car looks like it wants to move," says head of design Adrian van Hooydonk. "The 3 is the sprinter, for a quick getaway from a traffic light."
This 3-Series is said to have been BMW's most ambitious engineering programme.
Fair enough; the car has been good to BMW, with some 12.5 million sold since production began in 1975 to replace the 2002.
BMW's not talking about pricing yet, but given the added equipment, some sort of increase is likely from the current cost of $61,400 for the base model.
3 Series' best bits: How do you pick favourites from all the features?
Easy - the new Head Up Display (HUD), eight-speed gearbox and four-cylinder petrol engine.
HUDs have been around on production cars for about 25 years, but the 3 Series' goes all-colour and integrates with the satnav to provide comprehensive information without the driver having to take an eye off the road. In Spain, the HUD was able to show the car's speed and the posted speed limit, but it won't do that here. Shame. It projects route graphics alongside a useful bar symbol that shows how soon the next instruction will be reached.
The adaptive eight-speed transmission has blink-fast shift and reaction times and can be changed by wheel-mounted paddles. Eight ratios mean the computer can find the right gear for almost any occasion - good for both economical and sports driving. Some auto versions have slightly better fuel economy than the manual. However, a six-speed manual can be ordered.
Thanks to the latest twin-turbo technology, the 328i petrol engine's torque delivery is diesel-like - imagine, 350Nm from little more than a toe's quiver off idle. Talk about flexible, and there's no sign of turbo lag.
Packages
Like its smaller 1 Series sibling, the new car comes in three trim and equipment levels: Sport, Luxury and Modern. The first two speak for themselves.
Modern is similar to the Luxury pack, but has satin aluminium trim and uses lighter interior colours. One option is a light wood trim with three-dimensional ribbing, simulating bark.
An M Sport package is coming next year.