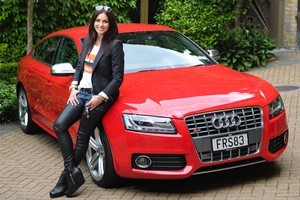 Sara Tetro is used to dealing with models - as owner of the Auckland agency 62 Models and as judge of New Zealand's Next Top Model - but she's also familiar with models of the four-wheeled variety.
Over the past 16 years, Sara has owned a variety of Audi models - first an A4, then a couple of all-road Quattros, an A6 wagon with a TV screen for rear passengers (a hit with her young daughters), and a Q7.
But as a recently appointed ambassador for Audi New Zealand, Sara's had the chance to judge some new Audi S5s, first the sportback, then the cabriolet (again, a hit with her daughters), plus an A5 diesel that wins Sara's praise for its thriftiness.
Sara joins MasterChef judge and restaurateur Simon Gault and Huffer designer Steve Dunstan as an Audi ambassador - a move by the marque to extend its profile.
"Sara's values align beautifully with Audi's values and she's genuinely passionate about our brand and about sharing it with New Zealanders," says Audi NZ's Fiona Woolley.
"For us it was a natural progression to invite Sara to join us as an official Audi ambassador."
Sara was already a confirmed Audi owner, so when she was approached about the ambassador role, she initially didn't think it needed to be formalised.
"My first reaction was 'I love the product ... you guys have always made me feel like an important customer, I'm more than happy to just help'."
But Audi NZ has big plans for Sara and, since she's officially become an ambassador, she's filmed extensively for the company's website - racing at Waikato's Hampton Downs track, reporting from NZ Fashion Week and at Queenstown for the Audi Ice Experience.
On Thursday, Sara was back at Hampton Downs as Audi ambassadors took to the race track as part of a Facebook promotion for the company.
The three official representatives picked three celebrities to join them in a series of exercises on the track, while fans on the social media site had a chance to become part of the teams.
Team Tetro was Jay-Jay Feeney from The Edge radio station, racing driver Mitch Evans, rugby player Anthony Borich and two Facebook fans, Joanne Wedding and Shannon Zaloum.
Last week, Sara polished her skills at Hampton Downs during Audi's Ladies Day at the track, where female owners had the chance to learn all about the car's safety features.
For Sara, such an experience for any driver is invaluable.
"They put us on skid pads and turn off the ESP - which I discovered wasn't a misspelling of a television network - and you really have no control over the car.
"To learn to be able to use the tools that are in the car, the reasons they are there and to understand how the vehicle responds under different conditions [is vital]. If you are unfortunate enough to find yourself in trouble, it'll be second-nature rather than panic."
Sara knows first-hand how such lessons can help. She was driving in Auckland a couple of years ago when a car pulled out of a side street ahead of her.
She knew she couldn't stop in time, so instead stepped on the accelerator and drove around the offending vehicle before safely coming to a stop.
"I had my daughter in the car at the time, in her booster seat, and if the other driver had hit my car, she would have been the one to be injured," says Sara.
Sara's an advocate for keeping children in booster seats until they are aged 12, or more than 148cm tall - as her daughters know very well.
She also firmly believes drivers should hold on to the steering wheel correctly and not sit so far back from the controls that they can't apply the brakes correctly.
Not that Sara was braking much on Thursday as Team Tetro took to the Hampton Downs track.