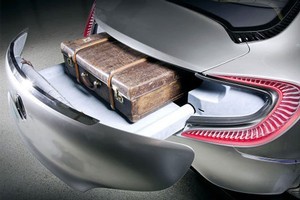 The Mercedes-Benz F125 concept car showed off the cutting-edge technology that will go into the 2025 S-Class sedan.
But buyers won't have to wait that long for the clever innovations, because the next-generation S-Class will pick some of them up.
Chief among them will be the Magic Ride Control system. Cameras scan the road to analyse the surface and set up the suspension accordingly.
An Active Curve system is also likely to feature; it uses active anti-roll bars to stop the car leaning on corners and also improves handling.
The most striking new gadget is an autonomous driving feature, which allows the S-Class to drive itself through slow-moving traffic jams, at speeds of up to 40km/h.
This uses similar technology to radar-guided cruise control, with a series of cameras and sensors on the outside of the car controlling the speed and the distance to the vehicle in front.
The system "allows the driver to concentrate on other things" in traffic, according to engineer Dr Stefan Schweher.
Also included is the latest version of the Comand online system.
This works with a cellphone to offer access to sites such as Facebook and Google and allow drivers to send pre-determined routes straight from Google Maps to the car's sat-nav system.
"The new S-Class will feature our latest breakthrough in audio technology, bigger, ultra-high-quality display screens and even more premium materials," said systems engineer Peter Ebel.
The technology should put the S-Class ahead of key rivals such as the Audi A8.
Believe it or not, the current generation Mercedes SL sports car has been around since 2002 but revisions and facelifts have kept the grand tourer feeling fresh.
Now there's a new one on the way and it's set to be more comfortable, more efficient and handle better than ever.
Mercedes-Benz will stick with the folding hard-top roof but it will now be available with the option of a Magic Sky Control panel which can be turned from transparent to almost opaque at the touch of a button.
Alternatively, buyers can opt for a standard sun-roof.
Visually the new SL borrows cues from the new SLK, CLS and SLS AMG. The front end is more upright, the grille is narrower and the headlights are swept back on to the wings. At the rear there's a set of large wraparound tail-lights.
The 3.5-litre V6, that produces 225kW, kicks off the new SL range. Next up is a twin-turbocharged 4.7-litre V8 in the SL500 that produces about 330kW and accelerates to 100km/h in about 5 seconds. The SL63 AMG model will be powered by a 390kW 5.5-litre twin-turbocharged V8.