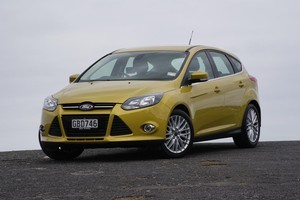 Several years ago, a motor industry marketing person from an upscale marque said something at a media event that I've carried with me ever since: "I've got bad news for you journalists: people don't buy cars. They buy brands."
If that's true, then Ford has a problem with the new Focus. It's a brilliant new model, with a level of build quality and chassis sophistication that puts it absolutely at the top tier of small cars. Here's the thing: the price reflects those abilities. The Sport version tested here costs $44,990. Look at our alternatives panel below and you begin to see the problem.
It's not even as if the Focus Sport is dripping with high-tech gear. Over and above the mid-range Trend ($38,490), you get sportier suspension with 17-inch alloys, automatic headlights, fancy looking LED lamps at the rear, dual-zone air conditioning, an ambient light package inside, premium Sony CD system (with iPod integration) and a roof-mounted spoiler. All good stuff, but not exactly cutting-edge. No leather, no keyless entry/start. For that, go to the Focus Titanium, which really pushes the boundaries with gear-like active-cruise control, sat-nav and self-parking ... and costs $49,490.
I have to say at this point that you can see where the money went. Focus looks and feels truly upmarket. The cabin bling may not be to everybody's taste, but the fit/finish and soft-touch materials are deeply impressive in a segment where so many makers are cutting corners to keep costs down (mind you, they're also, ahem, keeping the cost of the car down). The driving position is just-so, the interior noticeably more roomy than the car it replaces.
Focus is a delight to drive as well. Gone is the overtly sporty edge of the old car - the new model is not as immediate in its steering and chassis responses, but that's not to say it's less capable. In fact, I'd argue quite the opposite. That slap-you-in-face sportiness has been replaced by a more progressive dynamic attitude, and a remarkable depth of ability that becomes apparent at higher cornering speeds. Focus has the kind of unobtrusive-yet-high-achieving chassis that you'd expect to find in, well, a premium car.
Love the direct-injection 125kW/202Nm 2.0-litre petrol engine. It's strong, linear and impressively smooth at the top end. The Sport comes only with the dual-clutch Powershift gearbox - it takes some getting used to, but it's smoother than the Volkswagen/Audi DSG system in urban running, although not as talented and quick at high speeds.
If it had a premium badge on the bonnet, I think we'd all be hugely impressed. As it stands, I've got to say I struggle to see the Focus making its presence felt at this level. Hate to say it because the job of a motoring journalist is to look past badge-perception to what a car actually offers, but I have a feeling that Kiwi buyers will struggle with the concept of a small Ford that costs as much as premium-brand offerings in the segment.
On the plus side, the kind of engineered-in quality that the Focus possesses is just as evident in the lower-grade models, even if you're not getting as many toys. I suspect the combination of a sub-$40k price with this level of build/dynamic ability will be very appealing. The Trend is the only Focus you can also have in 120kW/340Nm diesel configuration - another sign that this is where the sales action is expected to be.
Alternatives
Alfa Romeo Giulietta Multiair
$46,990
BMW 118i
$49,700
Holden Cruze SRi hatch
$37,400
Mazda3 GSE SkyActiv
$37,395
Volkswagen Golf TSI 118
$43,750.