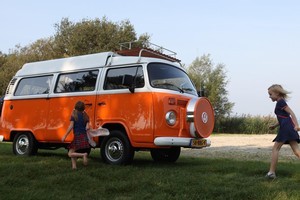 New models of the original Volkswagen Kombi camper van will be available exclusively in The Netherlands from next year and will thereafter be eligible for registration in European Union countries.
The 2012 VW Type 2 Microbus will be built at VW's plant in Brazil, where it has been available as the Kombi for many years.
Aesthetically, it hasn't changed too much from its days as transport for Kiwis on their OE. But the van's air-cooled flat four-cylinder engine has been replaced with a more modern 1.4-litre inline four, and the "spare tyre" on the front is actually an air filter that hides a front-mounted radiator.
Lopez is a big hit for Fiat with ad
American star Jennifer Lopez has proved to be a hit for Fiat with the TV commericial titled "My World" (as mentioned in Driven, November 9). The ad is voiced-over by Lopez, who is seen driving through New York. It also features Lopez's song Until It Beats No More. The clip has 80,000 hits already on Youtube.
We are the world
* About 120 professional mimes have been voluntarily patrolling a traffic-congested district of Caracas, Venezuela, at the request of the city's mayor. The white-gloved mimes' specialty is wagging their fingers at motorists and pedestrians who don't obey traffic signals. The mayor's office reported improvements in drivers' and pedestrians' behaviour.
* Police in Roseville, Michigan, arrested a 24-year-old man and charged him with reckless driving after he hit four parked cars. His brakes had failed but he tried to drive on by extending his left leg out of the driver's door to use as a brake, just like Fred Flintstone. Police said the man was sober.
* Britain's top 10 cash-generating speed cameras have been revealed - and between them, they rake in about $6 million in fines each year. A 20km stretch of road near the seaside town of Brighton had 11 cameras on it - one for every 1.8km. More than 18,000 drivers have been pinged there over the past three years, generating $1 million in fines.
But not all camera sites have proved so lucrative. One didn't snap
a single speeder in three years. A spokesman for the Association of British Drivers said the amount of money being generated by the cameras was unjustifiable. "We're not against cameras per se, but they need to be targeting areas with a large number of speed-related accidents. [They] are clearly revenue-raisers."
Volt blaze sparks safety inquiry
A Chevy Volt that caught fire in the parking lot of a crash-test site has prompted a United States Government probe over the safety and protocol of handling lithium-ion batteries that power electric vehicles. It follows a test where the Volt's battery pack was reportedly cracked and the car spontaneously caught fire weeks later. Volt maker General Motors maintains the battery should have been drained after the crash test - a measure it says it recommends.
Festive spirit overtakes deep-pocketed Ferrari fans
The $635,000 Ferrari FF has arrived in New Zealand as the replacement for the 612 Scaglietti, just as the first spy pics of the 599's successor - expected to be called the F620 - appear. It is heavily camouflaged, mostly to disguise design cues taken from the FF and 458 Italia coupe. Talk is the F620 will be much lighter than the outgoing 599, due in part to use of aluminium in the body. The F620 is likely to be powered by a 6.3-litre V12, delivering more than 520kW.
But unlike the all-wheel-drive FF, it will send its power to the rear wheels via a seven-speed dual-clutch transmission with a Formula One-style electronic diff.
Meanwhile, all 10 examples of the Neiman Marcus-edition Ferrari FF sold in 50 minutes, despite a US$395,000 ($511,830) price tag. The posh New York store offers an exclusive model each year in its Christmas catalogue. Buyers get a numbered FF and a trip to Ferrari's winter driving school - and they get to jump to the top of the waiting list.
'Racist' plate design rejected in Texas
The Texas Department of Motor Vehicles has rejected a proposal by the Sons of Confederate Veterans for a licence plate (pictured) bearing the Confederate battle flag, says The New York Times. Opponents said the flag was a symbol of Texas' racist past.
Shortly after unanimously rejecting the application, the DMV's governing board approved a plate for the Buffalo Soldiers National Museum in Houston.
The "Buffalo Soldiers" were the first African-American regiments in the regular US Army.
Legend has it that they got their name in the 1870s from native American Comanche warriors, because their dark, curly hair looked like a buffalo's coat.