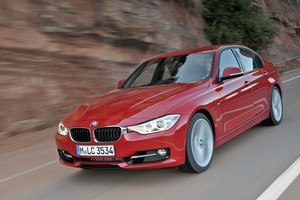 Europe is taking steps to deal with its debt crisis and the United States continues to recover from the 2009 recession ... but luxury carmaker BMW remains upbeat going into 2012.
"We're confident for 2012," said chief financial officer Friedrich Eichiner. Europe had made "positive" moves toward debt reduction, he said.
"What we need now is a clear sign that the countries are serious about getting their finances in order," Eichiner told Bloomberg at the launch of the sixth-generation 3-Series model.
He predicted "double-digit" percentage sales growth next year in the US, which will probably overtake Germany as the carmaker's biggest market in the near future.
The new 3-Series would cost 7 to 9 per cent less to make because it shared components with other models, said Eichiner.
That could boost profit margins for BMW, which targets earnings before interest and taxes at 8 to 10 per cent of sales next year and beyond.
It is planning for slower economic growth next year and at the same time is prepared for a potential recession.
Production chief Frank-Peter Arndt said last month that the company was ready to cut output by 20 to 30 per cent if necessary.
BMW will respond to a crisis by tapping central bank reserves through its banking unit. "We are remaining watchful and can react flexibly," said Eichiner.
To reduce its dependence on car demand, BMW is expanding in transport services. It plans a corporate car-sharing service, which will allow companies to provide per-minute car rentals to staff for business and private use. Personal trips would be charged to the employee, offsetting the company's cost for the car.
Programme chief Christian Steiner said the service, which will be available at first in Europe, was being tested in France, Germany and Britain before expansion next year. BMW also has a venture, called DriveNow, providing private car-sharing in Germany.
Growth has slowed for high-end carmakers from the record pace in the first half, as Europe's debt crisis unsettles consumers.
Daimler's Mercedes-Benz division suffered a 9.6 per cent European sales drop to 51,536 last month, according to industry association ACEA.
Rival Audi sold 53,482 vehicles last month in Europe, 2.5 per cent more than the year before, while BMW Group increased sales by 2 per cent to 65,006.