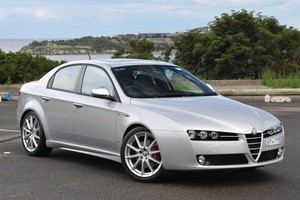 It's pretty much impossible for Alfa Romeo to pass up an opportunity for a little nod to its rich history. Please note the name for the latest version of its mid-size sporting sedan: the 159 1750, which pays tribute to the iconic 1750 sedan of 1967. And why not? Glory days and all that.
Strangely appropriate, too, because the 159 is now rapidly heading towards a resting place of its own in Alfa Romeo heritage. It dates way back to 2005 and is due for replacement next year - by a very different car that will pick up the design ethos and styling detail of new-generation Alfas like the Giulietta and MiTo.
However, there is one aspect of the 159 that sneaks it back towards technology leadership: the recent addition of the 1750 engine option, which embraces the European trend for small-capacity, big-output engines. It's a 1742cc (so it really should be a 1740) unit with direct injection, variable valve timing and a turbocharger, making a truly impressive 147kW/320Nm yet still returning 8.1 litres per 100km in the combined cycle.
The claim of a diesel-like peak torque figure at just 1400rpm isn't always born out in practice - the throttle response can be tepid in low-gear, low-speed driving. But once you get into the mid-range, the 1.7-litre powerplant is beautifully linear and exceptionally crisp as you climb up the rev range.
It's certainly enough to give the very familiar (I mean that in a nice way) 159 a renewed lease on life, although in these days of two-pedal dual-clutch Alfas some might be surprised/disappointed to find that the 159 1750 only comes with a manual transmission. Once upon a time, you wouldn't have considered an Alfa Romeo with anything else. But times have changed.
Times have especially changed in this segment. The 159 - especially the Ti model, which rides 20mm lower than standard - still feels pretty sharp on the road. But there's a whole new generation of rival models like the Peugeot 508 and Volvo S60 which are new to the market and generations ahead in terms of dynamic sophistication. The 159 is still fun, but the ride/handling compromise feels unresolved on bumpy New Zealand back roads: not nimble enough to be truly sporty, not compliant
enough for executive status. The cabin is also dated compared with the latest generation of Alfa Romeos, but in a way that I really rather like.
The 159's dashboard is an enormous plank of a thing with hooded dials deeply embedded. Ergonomically excellent it is not, but it oozes old-school Alfa in a way that the marque's newer, more sensible cars do not.
The Ti is well-stocked with sumptuous leather, seven airbags, Bluetooth, USB connectivity for your music and automatic headlights/wipers.
In any rational sense, you should avoid this car when there's an all-new replacement (to be called Giulia) on the way for 2012. It'll pick up the current car's 1750 engine option, but little else. So the 159 Ti 1750 really is the last of a breed - and at $62,990, a bit of a bargain.
There are plenty of rival machines that are more modern and better-equipped, but none leap to mind that have more character and sex appeal.
The bottom line:
The 159 is on its last legs, it's true. But boy, they are really nice legs.
Alternatives
BMW 320i ES $61,400
Ford Mondeo Titanium EcoBoost $52,990
Mercedes-Benz C 200 CGI $69,990
Skoda Octavia vRS $52,000
Volvo S60 T5 $63,990