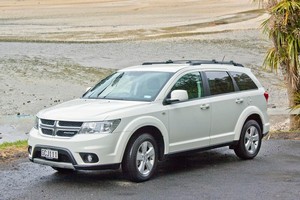 Dodge's Journey has been on the local market for some time, but until now hasn't been much of a trip. Its exterior styling was clunky, the interior verging on industrial.
Maybe it's Fiat's influence in the form of an injection of Italian flair from Chrysler's new European masters, but the latest Journey that goes on sale in a couple of weeks is a car fit for an upmarket forecourt, not a back-street truck stop.
Not only is the - roadkill - ram's head emblem missing from the grille, the bodylines have been smoothed and reshaped to reflect the latest design trends at Chrysler, so it sort of looks like a smaller Grand Cherokee.
Under the bonnet is the company's latest techno pride and joy, the 206kW 3.6-litre Pentastar V6 that's being introduced across much of Chrysler's six-cylinder world. It's a powerful, quiet, yet reasonably economical engine that fits well into the Journey's powertrain. It's 70kW more powerful than the older engine and torque is up by 86Nm, to 342Nm. Overall fuel consumption of 10.4 litres per 100km is the same as before.
Inside, the interior looks good, even in the trim of the SXT base version supplied for Driven's exclusive preview. The dash now looks integrated rather than a series of random components bolted together. An SXT costs $39,990, but leather seats and lots more goodies are included in an upgraded R/T package for $6000 more.
Fortunately, Dodge didn't mess with one of the older Journey's strongest points, storage space. Looking at all the bins, shelves, recesses, drinks holders and nooks and crannies, you'd think the factory must have held a contest among employees to find places to stow things - and then included every idea.
Couple this utility with a fairly decent third row of seats and a sliding second Isofix-friendly row to give more legroom back there when needed (at the expense of those in the second row) and the Journey starts to make serious sense for the active family.
And if owners are left wondering where to put stuff that still won't fit inside, the standard roofrack will take a further 68kg of whatever.
Journey has yet another trick. In addition to being able to fold flat either or both sides of the second-row seat, the front passenger's seat can also be folded. It's hard to categorise the Journey. It's more than a car; its sort of a people-mover; sort of an SUV but without the weight and complication of drive to all wheels.
Whatever it might be, the incoming Journey is such an improvement that I'm feeling sorry for owners of the older one. The price point, which Dodge boss Todd Groves says is thanks to the good exchange rate, makes this a Journey that's worth taking.
The bottom line:
Step forward, Journey, and accept Driven's award for Most Improved Car - er, wagon, people-mover; um, vehicular Swiss army knife.