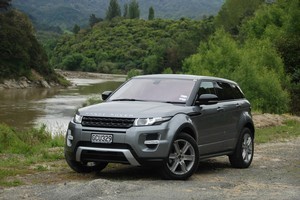 The Evoque is no ordinary Range Rover. It's sleeker and edgier than its traditional stablemates, and, at 10mm longer than Porsche's Boxster, it's city-slicker small. But does it live up to its brand?
What's new
Although the Evoque sits on the Freelander's compact platform and uses engines shared with Jaguar and other Land Rovers, this smallest-ever Rangie sits on an all-new chassis with a cutting-edge body design boasting visual cues likely to reappear on future vehicles.
It's 428mm shorter than the R-R Sport and more than 180mm lower, yet still boasts 215mm of ground clearance and a wading depth of 500mm.
Land Rover's Kiwi boffins tell us it has the off-road skills the brand is famous for, including its Terrain Response, electronic stability and traction aids.
The 2.0-litre 180kW/340Nm turbo four-cylinder petrol has yet to land; meantime there's a 110kW/400Nm 2.2-litre TD4 diesel (also fitted to the Freelander) and a powered-up 140kW/420Nm SD4 version with an 8.5s zero to 100km/h sprint and a 6.5l/100km thirst, matched to a six-speed auto.
That thirst is part of an eco-friendly commitment which sees 18kg of recycled material in each Evoque. Prices start at $79,990 and top out at $106,490 - plus options.
The company line
Forget three specification levels, buyers are encouraged to customise via three- and five-door bodies, three engines plus three ranges - Pure, Prestige and Dynamic, with only the basics covered and a range of colours, finishes and features filling a phone-book-sized option list that includes a 17-speaker sound system.
Land Rover is planning a busy six years, with one model each year starting with the Evoque in 2011, then Range Rover Vogue and Sport, Land Rover Freelander, Defender and Discovery. Each are new from the ground up, and all use new technology and lightweight materials - the Vogue is likely to drop more than 300kg, thanks to its pressed alloy body.
What we say
Forget traditionally boxy lines, Range Rovers are all about serious bush-bashing in luxury. As long as they retain those attributes Land Rover can afford to rework engines and bodies to suit modern times without diluting the brand's DNA.
The Evoque is instantly recognisable as a Range Rover, yet a stand-out on the road.
Owners will like the commanding driving position - it matches the lofty purchase price - and though the high-mounted rear window means kids under 10 will need a booster to see out, which at least it comes with safety benefits.
On the road
The TD4 never feels short of power though the SD4 is livelier; fortunately the Evoque handles well for an SUV. Indeed so good is the standard fully independent suspension that it barely needs the Adaptive Dynamics MagneRide variable damper option which merely refines, not revolutionises the ride.
Why you'll buy one
It's the hottest-looking SUV there is; you like a bush-basher that's talented on seal; compact dimensions suit city running.
Why you won't
You want an off-roader you can clean out with a hose, and this 575-litre boot ain't the Rangie Sport's 958 litres.