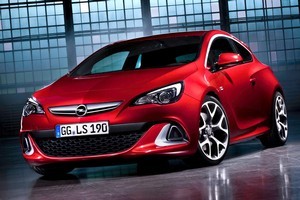 Go-fast hatchbacks in this part of the world might have a competitor next year in the form of the Opel Astra GTC.
The GM-owned brand will launch in Australia next year and has confirmed that its line-up will include the light-sized Corsa, Astra small car and Insignia mid-sizer.
But the sleek Astra GTC could also be part of the range that will debut at the 2012 Australian motor show in Sydney next October. Although the hottest 132kW turbo-petrol model does not deliver as much performance as the 155kW VW GTi, Opel has confirmed it will release a range-topping version in Europe next year under its OPC (Opel Performance Center) brand.
Nothing yet on Opel launching in New Zealand.
Suspicious carmaker puts brakes on Chinese Saab deal
General Motors is none too happy that its former brand Saab has agreed to be bought by Chinese companies Pang Da Automobile and Zhejiang Youngman Lotus Automobile.
"GM would not be able to support a change ... which could negatively impact GM's existing relationships in China or otherwise adversely affect GM's interests worldwide," the company said.
Why so? Saab's current line-up draws heavily from GM's latest parts bins, and GM has a major deal with SAIC, the largest carmaker in China. The GM-SAIC joint venture could be undermined if, as a result of the Saab buy-out, Pang Da and Youngman got hold of GM's intellectual property.
Analysts say GM still has enough control of Saab to squash the sale. Plus, the Chinese Government has yet to give its approval.
Wanted: Versatile wheeler-dealers
Keen to sell cars in Argentina? Be prepared to get into the wine business. Or the rice, peanut, biodiesel or bottled water businesses.
Argentinian President Cristina Fernandez de Kirchner has put in place a programme to boost exports by requiring carmakers to match, dollar for dollar, the price of its vehicle imports by exporting some other product from Argentina. But experts are wary of its impact on the nation's car market, which is growing by about 30 per cent a year.
Marcos Ferrario, an economist who tracks the Argentinian car industry, told news agency Bloomberg: "It's difficult to counterbalance imports of luxury cars, which are worth about US$150,000 [$188,086] each, with sales of olives or wines."
Pricey put-down
Competition between two Toyota outlets in the United States has ended in a record lawsuit. Fred Kenner, sales manager at a dealership in Pensacola, Florida, told buyers not to shop at a rival operation he called "Taleban Toyota".
Kenner said the outlet's owner was funneling money to insurgents, jeopardising the lives of US troops. The owner countered that he left his home country of Iran after the Islamic revolution in 1980 and that Kenner's allegations were slander.
The court agreed and awarded him US$7.5 million ($9.4 million) - to be paid by Kenner's employer.
Roll reversal
Aston Martin CEO Ulrich Bez and Toyota chief Akio Toyoda are keen motorsport fans and have often raced against each other - they even brokered a deal to turn the Toyota iQ micro car into the Aston Martin Cygnet. The friendship went a step further the other day at Germany's Nurburgring when both men swapped cars - Bez trying out a Lexus LFA and Toyoda piloting an Aston Martin V12 Zagato.
Formula One teams end two-year scrap over Lotus moniker
Two Formula One teams that have been fighting for use of the Lotus moniker for a couple of years have settled their dispute.
Neither team is directly owned by Lotus. One is based in Malaysia and had licensed the name from Lotus' parent company, Proton, before subsequently "acquiring" the name from a third party that laid claim to it.
The issue was further complicated when Lotus itself teamed with the Renault F1 team (which also happens to supply engines to the other Lotus team), resulting in two squads called Lotus-Renault.
Now the green-and-yellow Malaysian outfit, known until now as Team Lotus, will be named Caterham next year, while the Renault team will use the Lotus name. The moves also sees Renault stepping back to an engine-supply role.
Hyundai's concept for the LA Design Challenge.
The theme for this year's Los Angeles Design Challenge is Hollywood, or what the silver screen's next famous car might be. Half of the field comes from Daimler, with concepts submitted by Mercedes-Benz, Maybach and Smart. The other three competitors are Honda, Hyundai and Subaru. Their challenge was to dream up the next DeLorean, Ford Mustang or Audi S8 that will capture the attention of movie-goers in the year 2050. Each entrant picked a different style of film; genres from Westerns to thrillers to fairy tales and vampire movies are represented. The winner will be announced at the LA motor show on November 17.