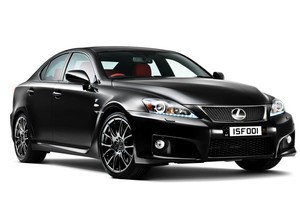 Lexus has launched an exclusive version of its go-fast IS F sports sedan called the "Red Edition", mostly because of its red leather interior highlights.
Just 10 of the $151,900 cars will be available in New Zealand - each with a personalised plate, a unique interior, leather accents on the front and rear seats, steering wheel and gear shift lever, 19-inch alloy wheels and an individually numbered "Red Edition" plaque inside the vehicle.
Lexus NZ manager Debbie Pattullo said: "The IS F is our flagship performance model and, with the introduction of the Red Edition, we're giving our customers an even more aggressive vehicle for the true sports car enthusiast."
The wheel and tyre package features new 14-spoke BBS alloy wheels and larger tyre/rim size, up from 8 to 8.5 inches for improved grip.
The sequentially numbered Red Edition dashboard plaque and licence plate - starting with ISF001 - highlights the exclusivity of the model.
The Red Edition range leads the upgraded IS F line-up going into 2012. All new IS F models receive dynamic and visual changes for 2012, including upgraded suspension components and visual enhancements to the exterior and interior.
Suspension revisions include the adoption of all-new Sachs low-friction front shock absorbers that improve high speed response to steering inputs. And at the rear, spring rates have also been changed to better work in concert with the revised front end.
Inside, the IS F receives new dark carbon-fibre look centre console inserts and a new exterior colour, mercury grey.
The Lexus IS F is powered by a Euro 5-compliant 5-litre V8 engine delivering 311kW at 6600rpm and 505Nm of torque at 5200rpm that is Euro 5 compliant.
The engine is mated to an eight-speed Sports Direct Shift (SPDS) automatic transmission and accelerates from 0-100km/h in just 4.8 seconds. Top speed is 270km/h.
Buyers get a four-year/140,000km warranty wrapped up in Lexus' unrivalled customer care package.
The IS F was first launched in New Zealand in 2008 and has since gone up against all comers in the sports sedan segment, including obvious rivals such as the BMW M3, Mercedes-Benz AMG C63, Audi's RS4 and more expensive exotics.
The use of F to identify the Lexus comes from the F in Fuji Speedway, the racetrack owned by Toyota and used for IS F development. The F logo also integrates the most demanding Fuji corners in its design.
The eight-speed gearbox has three methods for controlling shifts: D, or normal mode; D, or fixed-range mode; M, or sports direct-shift control.
In normal mode D, it's an automatic.
Fixed-range mode D is used with the paddle shifts behind the steering wheel. But the gearbox will not change to a ratio higher than the one selected.
If fifth gear is chosen, the transmission will use gears first to fifth only. It will automatically go back into normal mode D once the IS F stops or in stressed conditions.
Sports direct-shift control M features gear hold control, lock-up control (second to eighth gears), super fast up-shifts and blipping downshifts. The emphasis here is on shift response and feel and throttle response.
The sound from the quad exhausts downshifting under ultra-quick throttle blips in mode M is a highlight. The blips match the engine and gear speeds to avoid sudden engine-braking during performance driving.