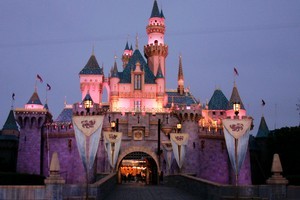 Chevrolet may take a page out of the Disney playbook to improve its customer service and its appeal in the Californian market.
Chevrolet dealers are going to classes at Disneyland to learn some of the magical secrets employed by the amusement park to make visitors feel they've had a special experience. A report in the Detroit News says that some of the tips include the fact that no Disney prince or princess ever smokes in public, and that sometimes it's better to say less to ensure a customer has a positive impression of their visit.
Chevrolet is also introducing new, small and fuel-efficient vehicles aimed directly at Californians and is renovating its ageing dealerships.
The brand has picked 100 dealers in the Los Angeles, San Diego and San Francisco areas and offered between US$500,000 ($638,000) and US$1.5 million for improvements, including a new, uniform front entrance.
Pump perils
A scientist at the University of Arizona says petrol pumps are the biggest biohazard in modern society.
The microbiologist - who the Los Angeles Times reports is known to colleagues as "Dr Germ" - says his research shows 71 per cent of pump handles are "highly contaminated with the kinds of germs most associated with high-risk illness".
The study also found 40 per cent of parking meters were similarly infested. Other highly contaminated everyday items include public mailboxes, ATM machines and escalators.
Toyota teaser
Is this the standard production version of the Toyota FT-86, the joint development with Subaru?
Another set of leaked brochure shots shows a red version of the new rear-drive sports car, in contrast to the earlier white shots said to be leaked from Toyota's Modellista parts division.
The interior images are the same as before, but the exteriors diverge in a few areas: the production version doesn't appear to have LED accents by the headlights, the skirting is softer around the car, a conventional whip antenna replaces the shark fin on the roof, and there's optional vent ornamentation for the front fenders.
The FT-86 will be unveiled this month at the Tokyo motor show.
Million miles on the dial
There's nothing quite like a parade in small-town America and this one was in Norway, Maine.
Local Joe LoCicero had just clocked up 1.6 million km in his 1990 Honda Accord and the townsfolk came out to play. Mechanic LoCicero bought the car used in 1996 with 118,000km on the clock, and since then has followed a strict maintenance schedule that included weekly fluid checks and oil-brand loyalty.
He logged an average of 100,000km a year as he travelled throughout the northeast United States for work. "If you listen carefully, she's getting old," LoCicero, 53, said. "But it's been an amazing ride." Honda America honoured LoCicero's record with the keys to a freebie 2012 Accord.
It's the one next to the chariot ...
A couple in Sicily were hit with a $55,000 fine - including late fees and interest - for parking their car illegally for 1800 years. The ticket said they had parked in the wrong spot in the year 208, or during the reign of Roman emperor Septimius Severus. The shock of the fine was so severe that it sent the wife into a fainting fit. She was treated at a local hospital and released. The ticket should have read 2008. Police acknowledged the error and reduced the fine
to $180.
Empty plate
Among the many myths surrounding the private life of Apple CEO Steve Jobs was his disdain for licence plates.
Jobs reportedly drove a Mercedes-Benz SL55 AMG without a plate, leading to speculation that Apple's co-founder had cut some back-room deal with California's Department of Motor Vehicles, that he had some high-tech barcode plate on his car or that he just didn't mind paying traffic fines.
But the New York Times says Jobs - who died last month - took advantage of a California traffic code which says that a new vehicle can be driven in the state for up to six months without licence plates.
Maybe, say United States automotive sites, but it doesn't explain why Jobs was pictured in 2010 at the wheel of a plate-less 2007 SL55 AMG - with 34,000km on the clock. Is this a case of Jobs' "reality distortion field" persisting even after his death?
Funding lifeline may not save ailing Saab
Swedish Automobile and Chinese carmakers Youngman and Pang Da have signed a deal to buy Saab and Saab Great Britain for about $175 million. The deal is still subject to the approval of Chinese and Swedish authorities, but is expected to go through. However, it doesn't mean that Saab is out of the woods.
The New York Times says it may take up to $1.5 billion to get the beleaguered carmaker back on track. But Pang Da and Youngman are preparing to invest cash in the company.
Saab hasn't built a single vehicle since April this year.