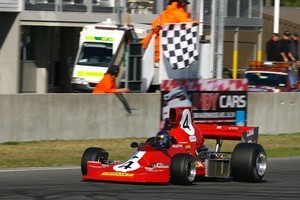 One of the great stalwarts of motor racing in New Zealand, Kenny Smith, is set to defend his MSC New Zealand F5000 Tasman Cup Revival Series title starting this weekend at Christchurch's Wigram Revival meeting at Ruapuna Park's Powerbuilt Tools Raceway.
He will be piloting a Lola T332, formerly Danny Ongais' car.
Smith, who turned 70 earlier this month, has won the transtasman MSC series for the past three years in a Lola T430.
It was in the earlier model T332 Lola that Smith enjoyed much of his success in the 1970s, and he's had an eye out for a good one since his return to the series.
Word reached Smith 18 months ago that a T332 was on the market and he and long-time crew members Barry Miller and Phil Richardson bought it from the widow of its original owner.
"The 332 was the best of the 5000s and this one's been in a museum in Los Angeles for 31 years," Smith said. "It was an Interscope car that Danny Ongais drove. It was absolutely original when we bought it, as if it had just finished its last race."
Despite that, Miller, Richardson and Smith have spent the past year stripping and rebuilding the car.
Last season, Smith won the MSC title for the third year in a row, having fought a season-long battle with top local driver Steve Ross (McRae GM1) from Dunedin and visitors Jay Esterer from Canada (McRae GM1) and Michael Lyons (Lola T400) from Britain.
All three are expected back, with Smith particularly looking forward to taking on the visitors in a lighter car.
"Don't get me wrong, the 430 is a great old girl, but the McRaes are a good 150kg lighter and Jay's in particular has always been wickedly quick off the corners.
"I don't think we'll be able to get the 332 quite down to their level, but it'll definitely be closer than the 430."
Indications are that there will be over 20 locally based cars on the grid. That number will then be supplemented at the 2012 meetings at Hampton Downs, Ruapuna and Phillip Island by almost as many cars again from Australia, Britain and North America.
Smith is about to launch into his 54th consecutive season of racing at a national level and is playing down the possibility of winning the Lady Wigram Trophy for a record-breaking fifth time.
He and Graham McRae share the record of four wins.
"It'd be nice, of course, to be ahead of everyone else, but that's not why I do what I do. I do it because I enjoy the racing. If I win, great, but if I don't I won't lose any sleep over it," Smith said.
He will head to Ruapuna happy in the knowledge that last year he made a clean sweep in qualifying and set a lap record.
Before that, Smith was one of four drivers - Peter Whitehead, Jim Clark and Craig Baird are the others - to have won the trophy three times - in his case across three different decades, first in 1976 in a Lola T332 F5000, then in 1990 in a Swift Toyota Formula Pacific, and in 2009 and 2010 in a Formula 5000.
Although he has yet to properly test the car, Smith says he expects it to be competitive straight out of the box. "Barry's done the whole thing and it's absolutely beautiful."
He believes his competition this season will again come from the McRae GM1s of Ross and Esterer.
Traditionally, the MSC series entry has been supplemented by overseas drivers in January and February, but this season Esterer, Chris Lambden and British driver Greg Thornton (Chevron B24) have entered all six rounds, including the season finale at Phillip Island, Australia, in early March.
Lining up against Smith, Ross, Esterer, Lambden and Thornton this weekend will be a mix of series regulars and newcomers split fairly evenly between the North and South Islands.
The round will also see the series debut of well-known local historic category racer Dave Arrowsmith in a rare Ford-powered Lotus 78, and Aucklander David Banks in a Talon MR1/A.
The meeting is supported by Historic Touring Cars, Classic Saloons, the Open Saloon Car Association, Historic OSCA, Mini 7s, pre-65s and motorcycles.
CALENDAR
Round 1: Nov 5-6
Wigram Revival meeting
Ruapuna Park, Christchurch
Round 2: Nov 12-13
MG Classic
Manfeild, Feilding
Round 3: Jan 21-22
NZ Festival of Motor Racing
Hampton Downs
Round 4: Jan 28-29
NZ Festival of Motor Racing
Hampton Downs
Round 5: Feb 4-5
Skope Classic meeting
Ruapuna Park, Christchurch
Round 6: March 9-11
Phillip Island Classic meeting
Phillip Island, Victoria, Australia