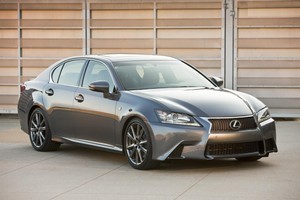 Lexus will take the covers off its new GS F Sport sedan today at simultaneous events in Australia and North America.
The first F Sport version of the luxury brand's reworked sedan was first seen in South Africa last month at the Johannesburg Motor Show and is expected to go on sale in New Zealand next year with the GS350 petrol and GS450h hybrid.
Lexus says that the GS450h will override the need for an eight-cylinder version of the GS because of its V8-like performance coupled with four-cylinder efficiency. The GS350 and GS450h will be unveiled in Melbourne at roughly the same time as the GS350 F Sport is shown at the Specialty Equipment Market Association (SEMA) show in Las Vegas.
While the F Sport version brings no additional powertrain performance, the chief mechanical upgrade is the Lexus Dynamic Handling (LDH) system.
LDH combines the new GS's active four-wheel-steering system - Dynamic Rear Steering (DRS) - and an F Sport-tuned version of the adjustable damping suspension system - Adaptive Variable Suspension (AVS) - that will be optional on other models.
Integrated with the car's Variable Gear Ratio Steering (VGRS), Lexus says the rear-drive GS sedan's new LDH system combines with larger-diameter anti-roll bars and uprated suspension bushes to deliver a more engaging drive.
It says LDH monitors vehicle speed, steering direction and driver input to calculate the optimum angle for all four wheels to help improve turn-in response, rear grip, vehicle control and overall agility when cornering.
A first for Lexus, DRS alternates between turning in the opposite direction to the front wheels at speeds under 80km/h - albeit by small degrees - to the same direction over that speed to assist high-speed stability and handling.
An electronically controlled all-wheel-drive system will also be an option across the new GS range - at least in the US.
Depending on conditions, it can vary front-to-rear torque distribution from 50/50 to as much as 30/70.
In lieu of a fully-blown IS F sports sedan-style GS F model, which could rival BMW's M5 with V10 firepower from the LFA super-coupe, other F Sport upgrades include lighter performance brakes with larger two-piece front discs and higher-friction pads, and an integrated four-wheel steering system - a first for a hybrid vehicle.
Externally, the GS F Sport gains 19-inch sword-spoke alloy wheels similar to those seen on the smaller IS F. The dark metallic alloys wear staggered-width 235/40-section front and 265/35 rear tyres - the widest ever seen on a Lexus sedan.
The biggest visual change, however, is the GS F Sport's unique bodykit, which includes more aggressive side skirts and front and rear bumpers with larger side and lower air intakes featuring an integrated mesh design.