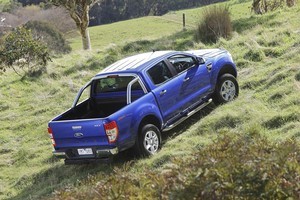 Ford's new Ranger is the world's first full-size ute to achieve a maximum five-star crash safety rating from Euro NCAP.
The Ranger, designed in Australia and built in Thailand, South Africa and Brazil for 180 countries globally, scored 89 per cent for overall safety - the best score ever earned by a pickup and one of the highest scores recorded by Euro NCAP for any type of vehicle.
The result confirms expectations held privately by Ford Australia executives at the launch of the vehicle in South Australia in September, that the carmaker has designed the Ranger as a five-star safety performer.
The Ranger's top safety rating has also been adopted by the European New Car Assessment Programme's Australian affiliate, ANCAP, and applies to all Rangers sold in Australia and New Zealand.
"This is a very important announcement for our customers,"said Bob Graziano, president and CEO of Ford Australia.
"When we developed the all-new Ranger we set out to establish many new benchmarks and we are hugely proud of the results we have achieved."
The Ranger achieved the highest rating of any vehicle tested by Euro NCAP for pedestrian protection (81 per cent) - a result that should also apply to Mazda's mechanically identical new BT-50 ute, developed alongside the Ranger in Australia and on sale in New Zealand this month.
The Ranger scored the same impressive 96 per cent score for adult occupant protection as just two of the vehicles Euro NCAP tested most recently - the Hyundai Veloster coupe and Mercedes-Benz M-Class luxury SUV.
The safety scores for the new model are a big win for Ford.
Its American-market 2011 Ranger pickup took a big hit when subjected to revised safety tests implemented this year by the National Highway Traffic Safety Administration.
Both 2011 Ranger models tested received only two-star overall ratings from NHTSA.
Production of the US Ford Ranger is scheduled to end next month, with no scheduled replacement.
All 12 vehicles in the latest round of ENCAP testing scored a maximum five-star safety rating, including the Veloster and M-Class, as well as the new Toyota Yaris launched in New Zealand last month.
The Captiva tested in Europe was equivalent to Holden's Series II Captiva 7 SX 2.2-litre turbo-diesel.
The BMW 1 Series, M-Class and Yaris all scored more than 60 per cent for pedestrian protection - the lower limit Euro NCAP will set for a five-star rating from 2012 onwards.
From next year, models will be required to score at least 60 per cent in the pedestrian protection category in order to be awarded five stars - up from 40 per cent under the current system.
Of the 12 cars examined, only four would have passed the 2012 test with flying colours - the Yaris, 1 Series, M-Class and the Ranger.
Every other car tested expect the Lancia/Chyrsler Voyager earned five stars, but fell short of scoring 60 per cent in the pedestrian protection category - some by a wide margin.
The Voyager scored just 47 per cent, while the Chevrolet Captiva and Hyundai Veloster managed 48 per cent and 49 per cent respectively.
The Opel Astra GTC and Fiat Freemont were both awarded 50 per cent, while the Audi Q3 scored 52 per cent, the Opel Zafira Tourer 53 per cent and the Lancia/Chrysler Thema 59 per cent.
However, none of the tested models matched the 96 per cent overall adult protection or 81 per cent pedestrian protection score of the Ranger, which also beat all but the Veloster's score of 86 per cent.
The Ranger outperforms its rivals in all areas of safety. Although Volkswagen's Amarok dual-cab is rated as a five-star model in New Zealand and Australia, where all examples are fitted with side/head airbags, it achieves a four-star rating globally because in some countries base models are fitted only with twin front airbags.
Mitsubishi's Triton is a global four-star performer, while Toyota's top-selling Hilux also scores four stars.