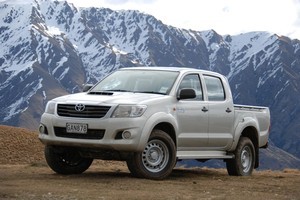 Just as vehicle manufacturers were recovering from Japan's tsunami and earthquake damage to its factories earlier this year, their production is being hit by Thailand's catastrophic floods.
The floods are expected to cause Thailand's auto sector, the biggest in Southeast Asia, to miss its output target of 1.8 million units this year. Toyota, Ford and Mazda are struggling to get product out of their factories in Thailand, only a few weeks after the three major players launched utes in Australasia.
Toyota New Zealand just took orders for 300 top-selling Hilux utes - but now is struggling to supply the one-tonne vehicles as factories which supply parts to its plants in Thailand are flooded.
A ship that was to have left Thailand last week was supposed to have 220 Hilux utes on it, but only had 26 of the top-selling farm vehicles on board. But Toyota reported that none of its plants or employees have been affected by the floods, which have so far claimed more than 300 lives and left more than 1000 homeless.
The floods have stopped production of Ford's new Ranger, and the closely related new Mazda BT-50, as both utes are produced at the Auto Alliance (Thailand) plant.
AAT is located in an area of Rayong that has not been affected by the floods. However, like Toyota, several of its suppliers operating in Ayutthaya province have been affected.