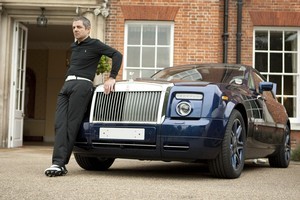 There was a time when Rolls-Royce got a bit shirty over people modifying its luxury sedans. But now, if you're a comic with a taste for the absurd, they'll help you tweak it.
Rowan Atkinson, star of Blackadder, Mr Bean and the Johnny English movies, managed to convince Rolls to bung an experimental V16 in its shiny new Phantom.
Back in the 1960s and 70s, a V12 Merlin engine from a scrapped plane found its way into a variety of bodies, eventually being fitted into a custom "shooting brake" shell called The Beast with Rolls-Royce grille, badges and the Spirit of Ecstasy.
In 1974, Rolls-Royce rolled out the lawyers after owner John Dodd refused to remove the trademarked items.
There were nine court appearances and a six-month sentence for contempt of court before Dodd "de-Rollsed" the car.
But in Johnny English Reborn, a sequel to the lacklustre Bond parody, Atkinson gets to drive the company's flagship Phantom, powered by a special V16 engine.
"I felt the Aston Martin thing had been quite overdone so I fancied doing something a bit different," explains Atkinson, "and I'd grown to love the Rolls-Royce Phantom myself and I thought, we'll try and get a two-door.
"I managed to persuade Rolls-Royce to dig out this ludicrous engine, this nine-litre V16, and it worked. It's a real car and it really goes and it is unbelievably quick, but it's a one-off experimental thing. But it's a genuine delight."
Atkinson's recent motoring exploits have been a bit more serious than pedalling a souped-up, couped-down Roller - in August he ended up in hospital after crashing his McLaren F1 GTR.
Atkinson walked away from the accident, after spinning the car several times before hitting a tree and a lamppost, where the supercar then caught fire. He was sent to hospital as a precaution.
He occasionally competes in motorsport events, and counts a classic Aussie muscle car in his collection - a 1964 Ford Falcon.
He topped the leaderboard on Top Gear's Star in a Reasonably Priced Car segment in a Kia.