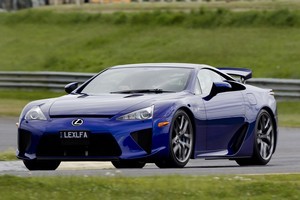 Scott Pruett has clocked 20,000km of seat time in this two-seater supercar. Even world-famous racing drivers have their speed heroes: For Scott Pruett, the United States' most successful sportscar racer, it's Steve McQueen.
Hence the helmet he's wearing today, a modern replica of the open-faced Simpson worn by the actor in the 1971 documentary film, On Any Sunday.
By Troy Lee Designs, the famed US producer of hand-painted helmets to many top drivers, Scott Dixon included, it's utterly faithful to the original, with the film title and name of the producer, Bruce Brown, reproduced in authentically weathered style on each side.
McQueen part-funded the 1971 indie film, often credited as the most important motorcycle doco ever made, and also features in it. The grainy insight into bike racing added more fuel to a California kid's burning desire to hit the track, an ambition fully realised today - Pruett has done, and won, everything from Indycars and Winston Cup to Le Mans Corvettes.
McQueen was good enough to race professionally. His skill is plain to see in Bullitt and Le Mans, in which his character utters one of the best motorsport lines of all time: "Racing is life, anything that comes before or after is just waiting."
So Pruett carries the torch and enjoys it when other hardcore fans make a connection. But not all do.
"Before this helmet, I had another one the same, but it just said McQueen. But people started to think, 'Oh, yeah, Lightning McQueen [from Cars],"' Pruett says, shaking his head that anyone could mistake his big-screen hero with a Pixar cartoon character.
McQueen's son, Chad, inherited the addiction to speed and by 2005 was racing top-level Daytona sports cars, where he crossed paths with Pruett, the star driver for the class-dominating Riley-Lexus team run by Chip Ganassi.
Back then, Toyota's premier-league brand was in motorsport to promote its engineering excellence. In 2005, Lexus didn't build sports cars. Now it does ... and how.
We're at Melbourne's Sandown circuit for introduction to the LFA, the astounding carbon-fibre composite two-seater V10 supercar that is entirely unlike anything to have ever worn a Lexus badge.
Pruett is here on the strength of his involvement with this $949,000 buy-in's development. His seat time in this car, in prototype and production form, amounts to almost 20,000km. Only a couple of Toyota Japan test drivers have clocked more.
Before you ask, the answer is "no". Just 500 of these hand-built exotics will be built and not one is earmarked for New Zealand. The closest colony is Australia, where there will be nine customer cars plus a pearlescent blue example owned by Toyota Australia. The car I'm to drive.
The credentials of this machine demand respect. The high-revving 4.8-litre engine produces 412kW and 480Nm and, with the aid of launch control, punches to 100km/h from standstill in 3.6sec and a top speed of 320km/h.
The aerodynamics and lightweight construction of the clutchless six-speed transmission, the computer-generated instrumentation and the near-ideal 48:52 weight distribution are aimed at going very fast, very seriously.
The LFA project was first conceived in 2000 as a research-and-development exercise, but the idea grew into a single-minded quest to develop a car that pushed the boundaries of technology and performance. The first prototype appeared in 2003, before a concept made its debut at the Detroit Motor Show in 2005. After that, Lexus spent years working in the world's toughest locations.
Then Toyota-supported Pruett came in and has run the LFA at almost every circuit in the US. Since the car's production debut 18 months ago, he's been busy doing duty - showing customers and journalists how to get the best out of the thing.
Not the most arduous job? "Well, I've had worse," he laughingly agrees.
Everything about this car smacks of precision and a near-disturbing obsession with weight-saving. The LFA swallows so much carbon fibre it's a wonder Lexus didn't cause a world shortage. Even the ignition key is fabricated from the stuff.
The approach saves about 100kg over an all-alloy chassis, and kerb weight is listed at 1480kg; less than the base weight of the baby Lexus CT200h. The brand proudly points out the all-alloy engine "is as small as a V8 and as light as a V6".
Even though the more recent, extra-honed Nurburgring edition is seen as the true track special, the LFA in "regular" form is hardly in boulevard spec. It too will thrash around a circuit all day without a sweat, Pruett says.
The suspension, managed by double wishbones at the front and a multi-link set-up at the rear, isn't exceedingly sophisticated - lacking electronic damping or any other wizardry - but is finely honed.
The aluminium monotube dampers are identical to those used by the race-going prototypes campaigned at the Nurburgring 24-hour enduro between 2008 and this year, when it claimed a class win.
The brakes (390mm/360mm discs, six pistons up front), forged BBS alloy wheels and bespoke Bridgestone rubber are race-ready, and the interior has a competition look and feel, with lots more exposed carbon fibre and forged aluminium.
The instrument cluster is dominated by a centrally mounted tachometer, but thanks to its LCD-screen technology it can reconfigure itself according to the car's drive mode. It's not so minimalist to miss out on a stereo and air-conditioning, but forget about cup holders or cruise control.
The transmission has four modes - Automatic, Normal, Sport and (as if you would) Snow. Pruett encourages Sport mode for the track, which allows full manual control through the alloy column-mounted paddles.
The starting procedure requires the key to be turned to initialise power while a foot is on the brake pedal and the gearbox is in Neutral - pulling back both shift paddles simultaneously brings it out of gear.
At that point a small light illuminates on the face of the steering wheel directly below the "Engine Start" button. Pressing and holding the button down fires the engine. First gear is engaged by pulling back on the right shift paddle.
And then we're off. Gingerly at first, because Sandown's pit exit is narrow and also because, though the IS-F lead car is already at full bellow, the LFA is so much more powerful that anything more than a tickle of the throttle will have me spearing into the back of the V8 sedan.
So the lead man - Australian rally and track star Neal Bates - raced, and we chased. And it seemed relatively easy. The engine, of course, is utterly narcotic in thrust and Formula One-esque sound. Famously, a television ad used the screaming pitch achieved between 7000rpm-9000rpm to shatter a champagne glass via resonance frequency.
That's not the sole LFA pleasure; it's also amazingly integrated; tactile, resolved and settled. There's no sloppiness. The feedback through the thick flat-bottom wheel and pedals are perfectly translated; the fade-free pulldown from the brakes incredible.
And the sheer shove! I entered the kinked back straight of Melbourne's Sandown race circuit at 70km/h and seemingly saw a peak 199km/h in less time than it would take to read this sentence.
If it flatters a reasonably adept driver, it rewards an exceptional one. With Pruett driving, we hit 240km/h along the same stretch. That's just 20km/h short of the absolute maximum clocked from a fully race-fettled V8 supercar here on a qualifying flyer.
And that's not the best bit. The straight is a gentle ascent; just past the crest is a sweeping left-hander, the fastest and most challenging of the 13 turns. Get it wrong here and you're half an expletive from a big, unhappy ending. That's why we had to thread through a chicane about 20m out from the turn-in.
The cones were withdrawn for Pruett so we whammed in there at ferocious velocity, about 200km/h. I think I heard the 20-inch tyres squeal as we clipped the apex. Just slightly.
And then we were away, smashing through the esses, hammering past the pits, then back on to that straight; 3.1km taken care of, just like that.